NoPrimaryTagMatch
LA, Dance knock off Dorchester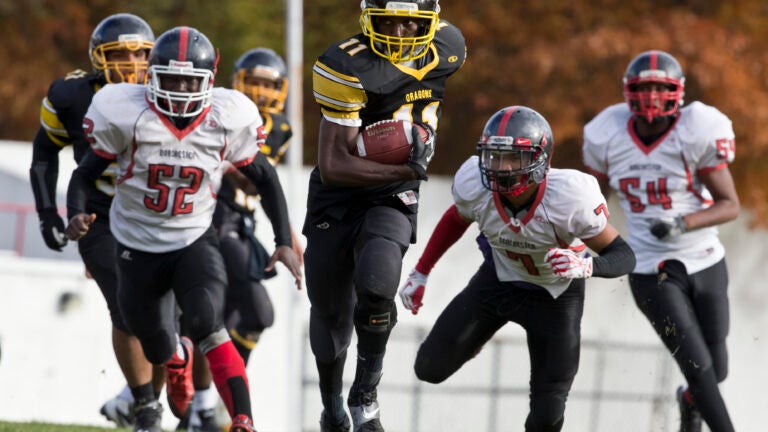 Latin Academy's offense regained its footing in Friday's MIAA Division 6 North quarterfinals at White Stadium, putting together multiple scoring drives in the 22-14 win over rival Dorchester. LA will have a rematch with O'Bryant in next weekend's sectional semifinals.
After being held to a season-low eight points in their first loss of the season last week to league champion O'Bryant, the Dragons (7-1) offense redeemed itself, manufacturing two scoring drives in the victory. Also helping out on the scoreboard was the LA defense, which scored a combined eight points on a safety in the second quarter and a fourth-quarter fumble recovery in the end zone by senior Cristian Mojica. Those points turned out to be the difference in the game.
"It was a tough game for us in the sense that we're two even teams. Coming into this game we knew it was going to be a dogfight, we really did. And give credit to my teammates because they really bounced back after a tough loss last week,'' said Latin Academy coach Rocco Zizza. "We didn't play well last week, but we really showed up today, particularly our defense,'' he said.
The Bears (5-3), who opened up the game with a methodical drive that spanned 15-plays and lasted eight minutes culminating in a 2-yard TD rush by Hakim Harris, looked as though their week three loss to LA was providing the team with some extra incentive.
After the first quarter, though, LA scored 16 unanswered points, including the safety, which was the result of a high snap too close to the end zone by Dorchester's long snapper. On the first play of LA's next drive following the fumble, senior quarterback Kyle Dance took advantage of the short field as a result of the safety, getting his 14th touchdown pass of the year as he hooked up with DeVaughn Riley on a slant pass from 33-yards out just before halftime.
With the 8-6 lead going into the third, LA got a big break after Dance was picked off by Demetrius Leary trying to hit a receiver in the end zone from 30 yards out. A turnover normally isn't a big break, but Leary, who ran out the end zone on the interception and got pinned on the 3-yard line, fumbled on a shaky handoff resulting in Mojica's touchdown.
Dorchester fought back in the fourth when Leary connected with Arrik Bell from 30 yards, trimming LA's lead to 16-14 with 5:40 to play. But on the first play of the subsequent drive, which coach Zizza hoped would burn some of the time remaining, Dance bolted for his second TD of the game, a 65-yard burst for the final score.
"We just wanted to run out the clock out and he ended up running for a touchdown,'' said Zizza, "Just a pleasant surprise.''
Dance, who participated in his first ever playoff game, was relishing at the idea of a postseason rematch with undefeated O'Bryant (8-0). And since OB downed West Roxbury, 33-18, following LA's game, the match is set.
"I think we need it,'' said Dance, who at the moment was still awaiting an opponent in the next round, "We need to redeem ourselves because I think the whole team knows we really didn't come to play [against O'Bryant]. I think we realized that today… So I think we just need to wake up and play 110 percent and we'll come out with the W.''
The rematch will be played next weekend, with the MIAA releasing date and time info on Sunday.