NoPrimaryTagMatch
New poll shows Martin J. Walsh leading John R. Connolly in Boston mayoral race by 3 points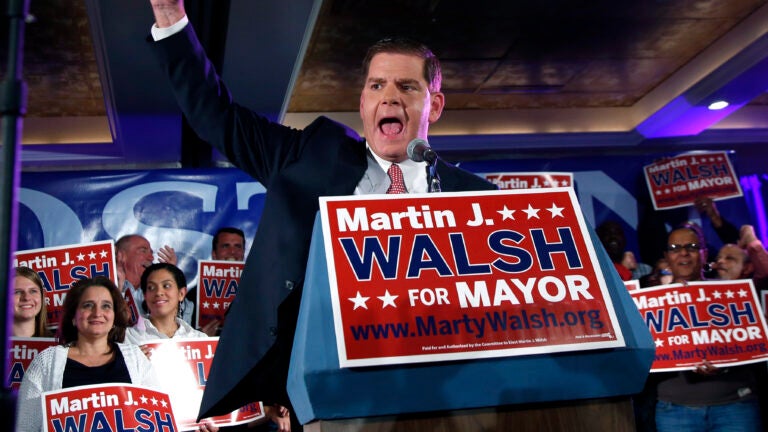 State Representative Martin J. Walsh holds a narrow lead over City Councilor John Connolly in the race to become Boston's next mayor, according to a Suffolk University/Boston Herald poll released this morning.
According to Suffolk pollster David Paleologos, Walsh is the choice of 46 percent of the voters, followed closely by Connolly with 43 percent of the vote.
The poll of 555 "very likely'' voters has a margin of error of 4.2 percentage points, Paleologos said in an interview on Boston Herald Radio.
Paleologos said Walsh has benefited from the numerous endorsements he has received in recent weeks.
The findings of the new poll mark a sharp change in direction for the race, according to Suffolk polling. In a poll released on Oct. 6, Connolly was leading the race by 7 percentage points, 41 percent to 34 percent.
Paleologos said the new poll results are not good news for Connolly.
"I think it's moving in Walsh's direction,'' he said, but he also cautioned that the election could be won by the campaign that has the most success in getting its supporters to the polls on Tuesday.
"It depends on turnout,'' he said.
The movement toward Walsh that was captured in the Suffolk poll echoes the findings of the University of Massachusetts-Amherst survey of 600 voters released Oct. 30 that showed Walsh had a 7-point lead. That poll had a margin of error of 5.3 percent.
Suffolk also queried 300 East Boston voters on the proposed casino at Suffolk Downs and found that 47 percent supported it, with 42 percent in opposition. The margin of error was 5.65 percent, according to the Herald. The vote on Tuesday will be confined to the voters of East Boston.