NoPrimaryTagMatch
Police seek suspect in 21 convenience store robberies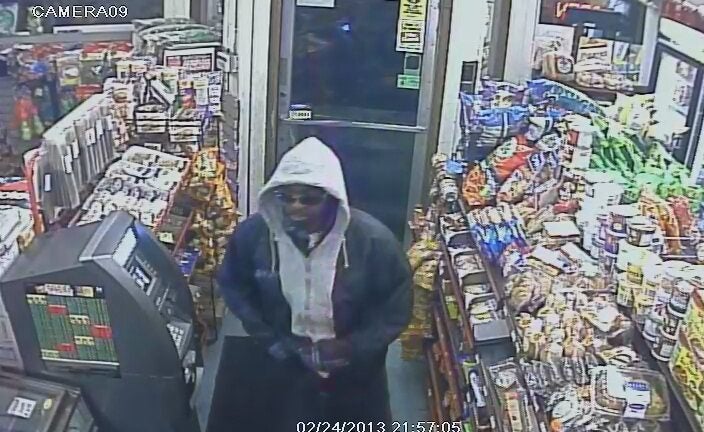 Police are seeking the public's help in identifying a man believed to have robbed at least 21 convenience stores since February, brandishing a gun in many of the crimes.
Cambridge, Boston, Chelsea, Everett, and Lynn police are searching for a dark-skinned black man, about 5-feet-10, with a thin mustache, Cambridge police said in a statement. In surveillance photos released by police, he can be seen wearing large sunglasses, with a coat or sweatshirt with its hood up, or a baseball cap.
In the most recent incident, the suspect is believed to have robbed a convenience store on Hancock Street in Everett Thursday. A store employee reported seeing the handle of a silver handgun in the suspect's waistband, said Everett Police Lieutenant Frank Hoenig.
The suspect fled with about $900, Hoenig said. Everett police also suspect he may be responsible for a September robbery.
"Luckily no one has been injured,'' Cambridge Police Commissioner Robert Haas said in a statement. "We need the public's help to identify and apprehend this suspect before these robberies turn violent.''
On Monday, the suspect entered a convenience store on Cambridge Street in Cambridge. He approached the counter, lifted his shirt to show a gun, demanded money, and fled the store, police said.
"We are very concerned that he is going to keep doing this until he is arrested,'' said Chelsea Police Chief Brian Kyes.
Although no one has been injured in any of the incidents, police consider the suspect to be armed and dangerous.
The suspect may also be responsible for similar armed robberies in East Boston and Jamaica Plain, Cambridge police said.
About 13 of the robberies have been in Lynn. The other communities have seen one or several robberies each, said Cambridge police spokesman Dan Riviello.
Police asked anyone with information to contact their local police or Cambridge police at 617-349-3300.