NoPrimaryTagMatch
Director John Waters says he's a soldier against the war on Christmas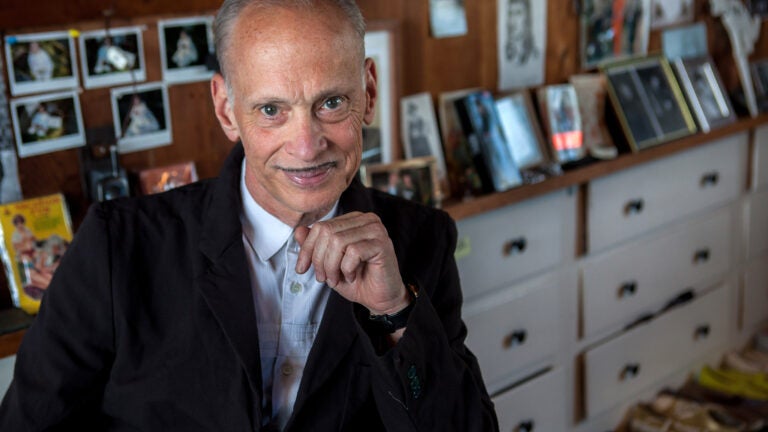 You might expect a satirical take-down of the Yuletide season from the man once dubbed the "pope of trash'' by no less an expert on such matters than William S. Burroughs. But John Waters is not Scrooge. In fact, he's resolutely pro-Christmas, albeit in devotion to a somewhat slanted view of the holiday. In his one-man show, "A John Waters Christmas,'' which is at Berklee Performance Center Sunday, the filmmaker, author, and miner of artful bad taste shares his views on Christmas — and anything else that comes to mind — with the rapid-fire cadence of a stand-up comedian. We reached Waters by phone.
Q. Do you celebrate Christmas?
A. I do my Christmas tour so I'm always working at Christmas. I'm like an elf, or David Sedaris, who always has to read the same story ["SantaLand Diaries''] he wrote. I love celebrating it. At the same time, I see the extremes of it. You can't ignore it. It's coming at you like a steamroller. You have to know the rules and you have to love it to understand why people hate it, and to have fun breaking all those rules. I send Christmas cards but they're quite hideous. My card this year shows me holding the baby Jesus.
Q. What kind of presence has Christmas taken on in American culture?
A. It's a capitalist tradition. Many stores would never be able to survive without Christmas. So I'm very for it. I understand the war against Christmas, and I'm a soldier against that war. I'm a soldier for the love of Christmas. I love Christmas carols. Why didn't GG Allin do a Christmas album? I always want the weirdest stars to do Christmas albums. I'm very big on obscure country-western and novelty Christmas songs. I'm a huge fan of the Chipmunks. I play ["Christmas With The Chipmunks''] over and over again until all the people who work for me want to run from the office screaming.
Q. How has pop culture's relationship with bad taste evolved since you've been on the scene?
A. Now Hollywood does bad taste. Some is funny and some isn't. They try too hard. When you're in Europe now and you say an 'American comedy' they think that's what it is — a gross-out comedy that costs $50 million. I made exploitation films for art theaters.
Q. You're in your longest gap between films. . .
A. It might be my permanent gap. But I also wrote two books. It's not like I'm not doing anything. Maybe I ended my [film] career making an NC-17 sex-addict movie. That's OK. My last book, "Role Models,'' was a bestseller. I'm happy to tell stories in any way.
Q. You're still held up trying to get financing for a new film?
A. Yes, obviously. They all want everybody to make a movie for a million dollars now and I can't, because there's music rights and it's all union and I always make movies with a lot of people in it. I routinely make movies that cost $5 million. Does anyone routinely make movies anymore? Do you see David Lynch making anything? I want to team up with him and make a Christmas album. We all have many careers if you want to survive in this world. I'm happy. I've still got ways to tell stories.
Q. Which of your films would you still like to see adapted for the stage?
A. They did a beautiful job with "Cry-Baby'' even though it was a failure. I think that killed my Broadway career. I want "Hairspray'' on ice. You never know. I made a joke about that on TV and they called and said they were interested. "Hairspray'' is the gift that keeps on giving. I wrote a sequel that never got made, I wrote a TV show that never got made, but they paid great Hollywood money for [the scripts]. If you took out the sex, "Pink Flamingos'' would work as an animated children's show.