NoPrimaryTagMatch
No Pants Subway Ride across the globe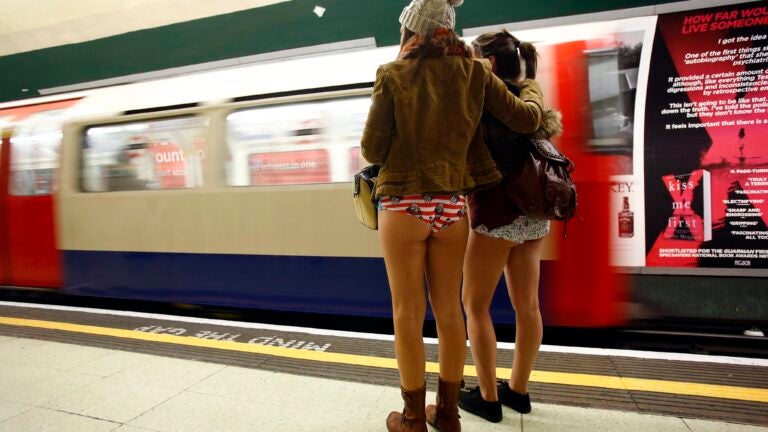 While Bostonians bared their legs for the No Pants Subway Ride on Jan. 12, 2014, so did fearless commuters all over the world. Pictured: passengers on the London Underground wait to board their train.

Scores of bottomless Bostonians took to the T on Jan. 12, 2014 for the annual No Pants Subway Ride. The event was created by New York City's Improv Everywhere in 2002, but has rapidly become an international event.

This rider forgot his pants but remembered his cowboy hat and boots, of course.

Two Washington metro riders wearing blazers kept it classy despite the absence of pants.

Participants on a London underground train looked casual at the city's 13th annual "No Pants Subway Ride.''

Some participants in London boarded the train in ties and sock garters. They might have been dressed for the office, if not for one missing piece of clothing.

Passengers on this London underground train seemed not to acknowledge their state of undress. One canine passenger did, however, notice the camera.

Not everyone was in on the joke at Madrid's 5th annual ride this year.

These Parisian participants shedded their pants while they waited for their train.

A pair of pantless passengers in Berlin rode during this year's annual event.

A participant in Berlin waits for her train. The "No Pants Subway Ride'' has spread to 60 cities and 29 countries around the world.

In Brussels, riders braved the cold in their underwear while switching between trains.

Unknowing passengers looked on as a group of participants rode pantless in Brussels' first "No Pants Subway Ride.''

Riders in Kiev wait patiently for their train.

An Indian commuter rode the metro in Bangalore sans-pants on Jan.12, 2014.

A man and his daughter walk past a group of no-pants participants in Beijing.