NoPrimaryTagMatch
US figure skating team for Olympics announced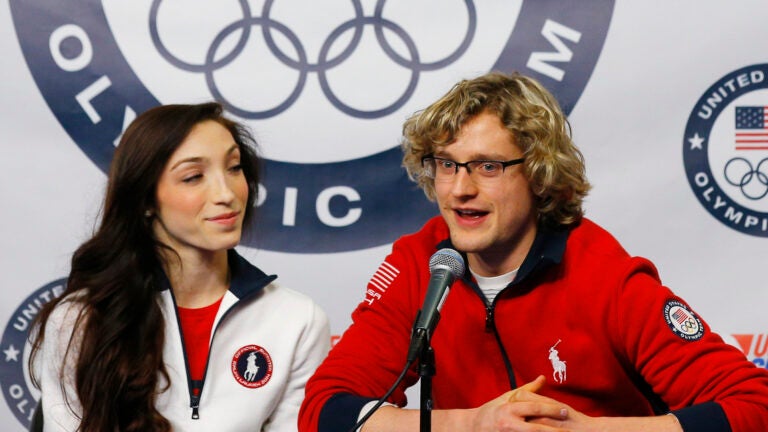 The US Olympic Figure Skating team was announced Sunday, and all but three of the picks will be making their Olympic debut next month at the 2014 Winter Games in Russia.
Local pair Marissa Castelli and Simon Shnapir, who train at Skating Club of Boston and won their second straight U.S. title on Saturday, are headed to Sochi, as well as US silver medalists Felicia Zhang and Nate Bartholomay.
"Simon and I are speechless; this is one of the happiest days of our lives,'' Castelli said. "We've worked so hard for the last eight years together and it really paid off. We're so excited to be here in this moment… We're so excited to go to Sochi. We're thrilled!''
"'Мы на в Сочи!' That means 'We're on to Sochi' in Russian,'' Shnapir said. "I know it's cliché, but this is a dream come true. We're still a little bit shocked. We're just trying to enjoy all of these moments. We've worked so hard and done so much on our eight years together and this is such a great pinnacle for us.''
For the Ice Dancers, the top pair had essentially already locked up a spot, as Meryl Davis and Charlie White were named to the team after winning their record sixth U.S. Championship. The pair won silver at the 2010 Olympics in Vancouver and are heading to Sochi with their sights set on Olympic gold.
"We are so lucky to be part of such an amazing team,'' White said. "Having our sixth title and being able to go to these Olympic Games next to our friends and our training mates, we really are blessed to have this opportunity.
"Obviously we're going into these Games with very high expectations. We've had a lot of great momentum over the last four years since the 2010 Olympics and we think we've put ourselves in a great position to bring home a gold medal. That's what we're going to try to do.''
Madison Chock and 2010 Olympian Evan Bates, who took silver at the U.S. Championships, will join Davis and White, as well as sibling duo Maia and Alex Shibutani, who won bronze on Saturday.
"This has been the craziest, most amazing journey,'' Alex said. "Ten years ago, we started in this sport. Ice dance is a crazy sport; it's a crazy life, but moments like this you don't really prepare for, you only dream of. I'm just so happy that we're here together and I wouldn't be here with anyone else.''
On the Ladies side, there was no question as to who deserved the first spot, as Gracie Gold dominated the US Championships and won the US Championship one year after placing second.
"I'm so excited to be going to Sochi, representing the United States,'' Gold said. "The Olympics aren't just another competition, it's the ultimate dream. It's a life experience that I'll never forget and I'm so excited to be going.''
Some controversy arose for the final two spots, however, as one spot was awarded to 15-year-old Polina Edmunds, who won the US silver medal, but has only competed at the US Championships once at the senior level.
The last spot was given to Ashley Wagner, who was the 2012 and 2013 US Champion, but failed to crack the top-3 at this year's event. Vancouver 2010 Olympian and 2014 US bronze medal winner Mirai Nagasu was the odd skater out.
"I'm at a loss for words right now,'' Wagner said. "It's been a really rough four years and I've been working really hard. It wasn't my night last night but I'm so extremely pleased. I'm happy that my federation was able to see beyond one bad skate and I can't believe that I'm going to be able to represent the United States in Sochi.
"We have an incredible team and I'm so proud of what we've all been able to accomplish so far. I'm on cloud nine. Everyone has been so supportive over the last couple of days and I'm very grateful to be where I am right now.''
Jeremy Abbott, who won the 2014 men's title on Sunday, was chosen along with runner-up Jason Brown for the two US men's singles spots in Sochi.