NoPrimaryTagMatch
Marathon bomb victim, rescuer attend Obama speech on State of the Union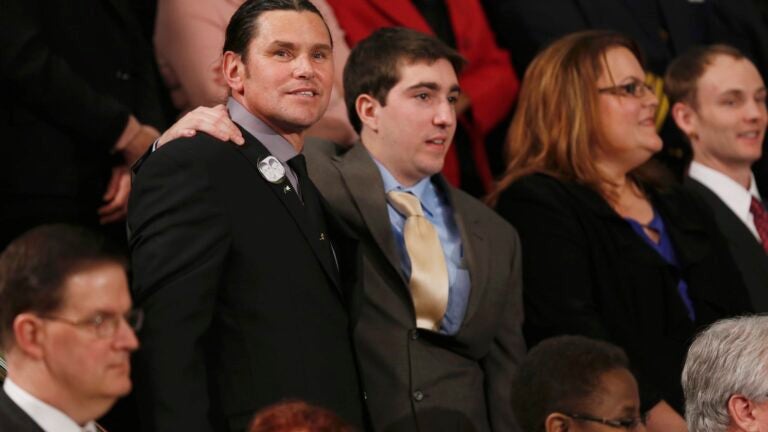 WASHINGTON — A Boston Marathon bombing victim who lost both legs in the attack and his rescuer sat in Michelle Obama's box Tuesday night as the president delivered his annual State of the Union speech.
They were not recognized by the president, nor did Obama mention the April 15 attack, which killed three and injured more than 260 people.
While Jeff Bauman, the 27-year-old bombing victim who lost his legs, and Carlos Arredondo, his 53-year-old rescuer, sat with Michelle Obama, Watertown Police Chief Edward Deveau, whose department helped apprehend the second bombing suspect, attended the speech as the guest of Senator Edward J. Markey, a Massachusetts Democrat.
"We're here to represent the Commonwealth of Massachusetts, the city of Boston, and many other people,'' Arredondo said in a telephone interview Tuesday. "We have to remember the many survivors who are dealing with surgeries and trauma and many who are dealing with the loss of loved ones. It's still a healing process.''
In what has become an iconic photograph, a cowboy-hat-wearing Arredondo is wheeling an injured Bauman to safety as both flee the carnage. Arredondo, who fashioned a tourniquet from a sweater sleeve, is credited with helping to save Bauman's life.
The emotional photo — taken on Boylston Street — became famous for embodying the heartbreak and heroism of the day.
While in the hospital, Bauman helped identify the Tsarnaev brothers suspected in the bombings.
At the Marathon, he was waiting for his girlfriend to cross the finish line when the first of two bombs exploded and blew his legs off.
Since then, Bauman and Arredondo have forged a close friendship, marked by trips together to Costa Rica and France and shared holidays, including a birthday celebration and Thanksgiving. In Washington, D.C., for their State of the Union visit, the pair are staying in adjacent hotel rooms.
"He is a beautiful person,'' Arredondo said of Bauman.
Arredondo, whose Marine son died in Iraq in 2004, was at the Marathon to support military service members who were marching in the race in honor of fallen soldiers. When Arredondo learned of his son's death, he set himself on fire inside a Marine van. In 2011, as he was recovering, his other son committed suicide.
On Tuesday, he was at the White House with Bauman, attending a reception before the speech, getting a tour, and taking a picture with Michelle Obama. After the gathering, Arredondo, Bauman, and others headed to the Capitol while their families remained at the White House to watch the speech.
Arredondo's wife, Melida, said she received a call from a White House aide on Friday morning that notified Arredondo of his invitation. They were told to keep the news under wraps until Monday, when the White House officially announced its guest list.
"I didn't believe her,'' Melida Arredondo said, of the woman who told them the news. "We asked her to repeat herself and then I put her on speaker phone.''
On Tuesday, Deveau said he was honored to represent his police department and Watertown in Washington. Four days after the explosions, bombing suspect Tamerlan Tsarnaev was killed after a shootout with Watertown police.
His brother, Dzhokhar A. Tsarnaev, was seized while hiding in a boat, on a trailer in a Watertown backyard, after a massive manhunt.
"I am so proud of the accomplishments of my department, as well as how our community responded during the events of 2013,'' Deveau said in a statement.
Joining Arredondo, Bauman, and Michelle Obama in the VIP box were Vice President Joe Biden's wife, Jill, and senior White House adviser Valerie Jarrett.
Other guests included Gary Bird, the fire chief in Moore, Okla., where a deadly tornado hit last May, and basketball player Jason Collins, who last year became the first active male athlete on a major American sports team to come out as gay.
As the one-year anniversary of the Boston Marathon attack nears, Arredondo said he hoped his presence at Obama's address would help honor the victims and their families.
"The terrible thing that happened changed everybody's life,'' he said. "It's amazing just to be here. I'm really grateful.''