NoPrimaryTagMatch
UConn returns to March Madness: A first for its coach and a last for its star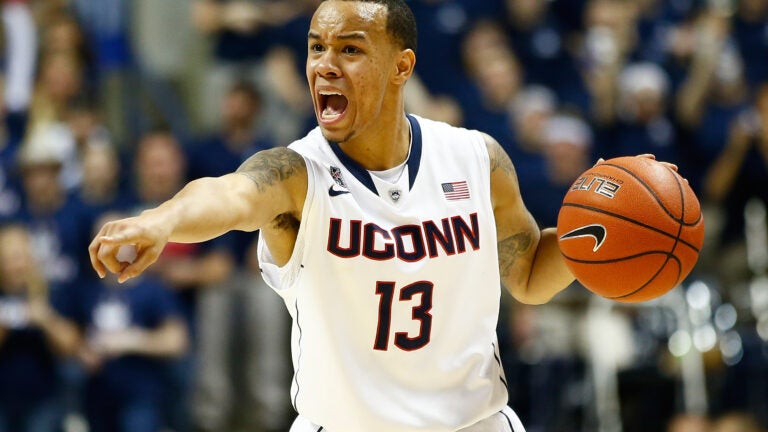 Contrary to popular local opinion, college sports do actually exist outside of the Beanpot, and lo and behold, March just so happens to be the month when the most riveting of all collegiate athletic tournaments is held. Are you ready to immerse yourself in the madness? Cue up "One Shining Moment,'' because the NCAA men's basketball tournament is upon us.
In this neck of the woods, amateur athletics take a backseat to the pros. We prefer athletes who get paid for performance (or at least the ones who get paid over the table). Most callers to sports talk radio would rather dig into NFL salary cap details or discuss the Sizemore vs. JBJ spring training center field battle in MLB games that don't count than even acknowledge the college hoops matchups that matter the most. But there's a reason for New Englanders to focus on basketball in March other than predicting which lottery pick will result from the Celtics' tanking, and dreams of Jabari Parker and Andrew Wiggins.
That reason? The University of Connecticut men's basketball team, which will be entering the tournament Thursday night against St. Joseph's. In the men's game, UConn is the region's only hoops powerhouse. Sorry, Harvard and UMass. While Tommy Amaker has done an admirable job constructing a hard-working Ivy League team that can compete with anyone and the local State U has seen a welcome resurgence, the small pond that is northeast hoops is dominated by one very conspicuous big fish.
The Huskies are hoping to resurrect the magic of their memorable 2011 tourney run, the last time they were led by a transcendent upperclassmen point guard. While that team won the national championship on the back of Kemba Walker (a man just slightly below Jesus on the infallibility scale in Connecticut), the current squad also has a riveting, if less heralded, backstory. UConn is guided both by Kevin Ollie, who is coaching in his first NCAA tournament, and Shabazz Napier, a Boston product who will be playing in his last.
Last season, his first as a head coach at any level, Ollie got as easy an introduction as one could hope for when stepping into the shoes of a legend, Hall of Famer and three-time national champion Jim Calhoun. Ollie was handed a team with low expectations – a young roster with questionable talent and with no hope to make either its conference or the national tournament, as a result of inheriting sanctions due to low academic progress scores. He reached 20 wins without the benefit of those postseason games, and won kudos for keeping his charges invested and motivated throughout a season whose outcome was predetermined.
If you can't find a reason to root for Ollie, then what's the point of following sports? A classic "good guy,'' both a solid X's and O's coach and one young enough to be relatable to his players, he matches Calhoun's passion on the bench with a touch more compassion. And try to think of anyone who played longer as a pro with less talent; the guy never cracked 10 points per game in college, yet played for 13 years in the NBA – that's as long as Larry Bird! Ollie exemplifies how work ethic, sound fundamentals, and leadership qualities can transcend a non-superlative skill set in a way that, frankly, any half-decent Division 1 player without a first-round pedigree should emulate.
Like his coach, Napier leads by example, but Shabazz packs a lot more pizzazz. A Roxbury native, the senior and soon-to-be All American has had so many dagger-to-the-heart moments, his teammates probably tap his veins after practice to drink the ice water that flows inside. Simply stated, Napier has elevated his game to do-everything, all-world, and all-time Husky status.
When your 6-foot-1-inch point guard not only leads your nationally-ranked team in scoring, assists, steals, free throw shooting, and heroics, but also in rebounding, then you know you've either got a roster of 11 other guys with some serious deficiencies, or you've got one heck of a winner. I'll take the latter, and Shabazz is just the type of memorable player that tends to shine in the NCAA tourney. Even during off-shooting nights he can be great, with heady passing, disruptive hands, and great positioning for defensive rebounds, while ceaselessly starting fast breaks.
Napier's Husky teammates aren't too shabby either. Diminutive Ryan Boatright plays the exciting counterpart in the backcourt, and DeAndre Daniels is a long wing player with emerging NBA potential. Grad-student transfer guard Lasan Kromah brings additional veteran leadership and a much-needed level of consistency to counter the streakiness of Boatright and Daniels. Young big men Amida Brimah and Philip Nolan have come a long way from November, when they were no more than 10 automatic fouls.
We cannot overlook fan favorite Niels Giffey, a formerly little-used German having a breakout year as a long-distance sniper off the bench. He is the anti-senior: While most seniors tend to elicit a "Hasn't he been here for a decade already?'' reaction, Giffey's out-of-nowhere barrage of "NBA Jam''-style fireballs ('90s video game reference!) makes you wonder how he still doesn't have a year of eligibility left. I constantly find myself thinking "he's gonna be awesome next year,'' then remembering Giffey is a senior and breaking down in tears.
The Huskies are a dangerous tournament team, with legitimate hopes to advance several rounds (although they've shown sufficient offensive discombobulation at times to make them a candidate for an early exit, as well). But they play wonderful team defense, blocking shots around the rim and creating turnovers on the perimeter, and they've improved significantly on what early in the season was a glaring rebounding disadvantage. Most importantly, they have Shabazz Napier and everyone else doesn't.
Now, Ollie gets to lead a deep, well-rounded team into his first big dance. And Napier gets to bookend his college career with his own impression of the Kemba Walker Show he witnessed as a freshman. You know your bracket will be busted by Sunday, and your office pool will be won by your boss's daughter, who picked winners based solely on the relative ferocity of team mascots. So why not have a real rooting interest in the games? As a true New Englander, with UConn as your horse in the race, you could do worse.