NoPrimaryTagMatch
How far have we come on accepting gay athletes like Derrick Gordon?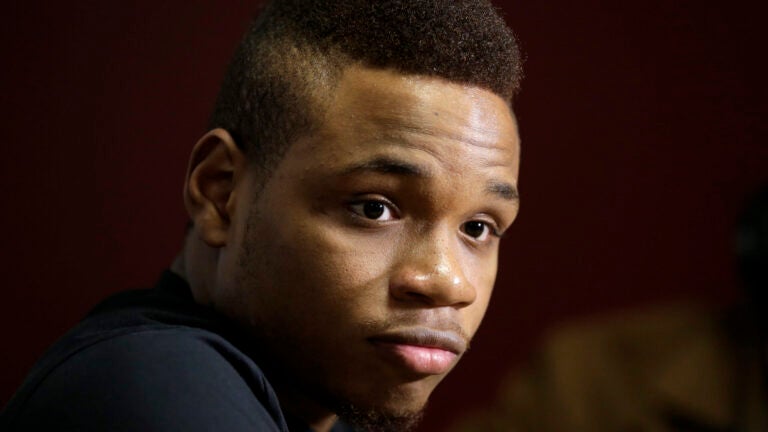 It's easy to remember when we all talked about how big a deal it would be when a male athlete in a major sport came out as gay. How the culture wars would flare up like springtime allergies. How carefully calibrated team chemistry would be strewn asunder. How fans and players would dust off the Jackie Robinson playbook to heckle and humiliate openly gay trailblazers.
It's easy to remember that talk because it was only last year.
In 2013, veteran NBA center Jason Collins came out. A few months later, in the twilight of his career, Collins landed a job with the New Jersey Nets. In February, college football standout Michael Sam told the world what his teammates already knew: he is gay. Sam's timing was particularly bold because it has the potential to hurt Sam's draft stock and cost him millions of dollars.
Both stories attracted a crush of media attention. This morning, when UMass shooting guard Derrick Gordon publicly came out, the reaction was more grounded, something like:
Here's a guy. He plays basketball. He's good. He's gay. OK, next story.
One reason for the matter-of-fact response is that Gordon is a good, but not great, college player. Like other relatively anonymous college players who have come out recently, Gordon won't get the attention Sam and Collins did.
Another explanation is that we, as a country, are anticipating a new normal, wherein athletes can be out, respected, and treated with the dignity they deserve. So far, it seems like last year's doomsday talk has not come to pass.
Thanks to decades of tireless advocacy, a winning streak in the courts, and a societal epiphany on gay rights, discrimination based on sexuality is, in a growing number of circles, taboo.
These days, it seems like most athletes are rooting for players who come out, which makes perfect sense. Elite athletes work their whole lives to get a shot at a few years in the Big Show. When they get there, they want any teammate who can help them win.
During college, Patriots receiver Julian Edelman woke up at 3:30 a.m. five days a week so he could drive to crack-of-dawn practices with the region's elite players.
"It was an old S-10 Chevy pickup and the heater didn't work,'' Edelman's dad Frank told the Globe in January. "The weather would get down to below zero, and he'd wrap himself in blankets, get behind the wheel and drive.''
If Edelman could deal with that, he likely won't mind a gay teammate, especially if he can help the team win.
Our views on gay rights have changed dramatically in the past decade, but it will probably take years for out LGBT athletes to feel respected and safe in settings where teams have long bonded over testosterone-fueled locker room talk.
Such intra-squad ribbing almost caused Gordon to quit the team. Last summer, after Gordon's then-boyfriend posted an Instagram photo of the couple standing in front of a gay bar, Gordon "liked'' the photo. Teammates noticed and asked Gordon if he is gay. Teammates teased and chided him for weeks.
"That was probably the lowest point I was ever at,'' Gordon told Outsports in an interview. "I didn't want to play basketball anymore. I just wanted to run and hide somewhere. I used to go back to my room and I'd just cry. There were nights when I would cry myself to sleep. Nobody should ever feel that way.''
We should hold off on self-congratulation and support groups like the You Can Play Project, which is working to make sports more welcoming for LGBT athletes. Gordon sought support from the You Can Play Project before he came out, according to ESPN.
"Now that I'm taking the mask off, people can finally see who I really am,'' Gordon said.
Gordon coming out is incredibly brave. He now belongs to a small, but growing, fraternity of the brave.
Best of luck with your final exams, Mr. Gordon. All over the state, we're rooting for you.