NoPrimaryTagMatch
Spring whirl: Greenway Carousel opens April 11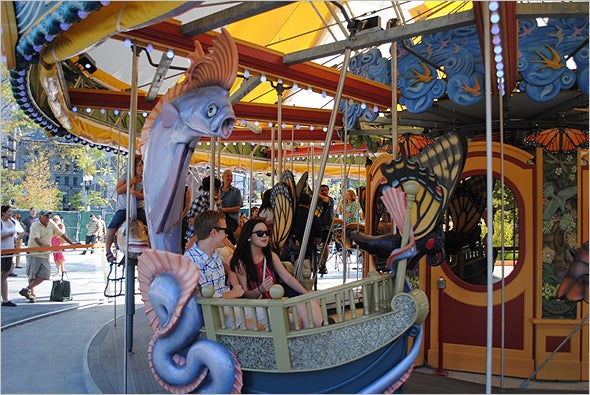 In 2010, the Rose Kennedy Greenway Conservancy set out to create a one-of-a-kind carousel in Boston. Last August, the dream became a reality with the launch of The Greenway Carousel.
When it opens for the season on April 11, the young and the young-at-heart are invited to go round and round (and up and down) on one of 14 animals native to Massachusetts. No horses here — instead, you're invited to hop on a lobster, sea turtle, cod, grasshopper, harbor seal, fox, skunk, whale, squirrel, rabbit, butterfly, barn owl, peregrine falcon, or the mythical sea serpent.
Ideas for the 36-seat carousel's characters came from area school kids, who were invited to imagine carousel characters they wanted to ride on. Their drawings were transformed into reality by Newburyport sculptor Jeff Briggs.
The 660 light fixtures are programmable, and the music ranges from classic children's music like Raffi, to tunes by local heroes the Dropkick Murphys.
The carousel is situated in the Tiffany & Co. Foundation Grove, where visitors will find enough flowers and greenery to keep distractions from street activities at bay, and the cooling shade of Magnolia, oak, and other trees.
Accessibility features include accommodations for people with physical and auditory disabilities.
Greenway Carousel, open April 11-Memorial Day weekend, Fri-Sat 11 a.m.-9 p.m. Sundays from April 13 until 7 p.m. Memorial Day weekend 11 a.m.-7 p.m. Spring Break hours: April 18-21, 11 a.m.-9 p.m. and April 22-24 11 a.m.-7 p.m. $3 per ride, $25 book of ten tickets. Located at the Tiffany & Co. Foundation Grove on Boston's Rose Kennedy Greenway across from Christopher Columbus Park and Faneuil Hall Marketplace in the Wharf District. www.rosekennedygreenway.org