NoPrimaryTagMatch
Hop To It: Ideas for Easter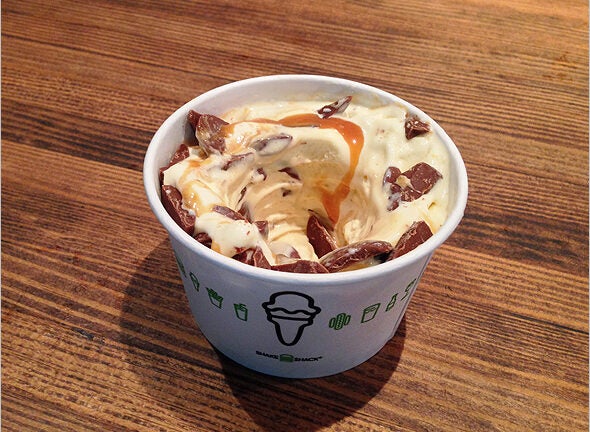 SHAKE IT UP Give us any excuse to go to Shake Shack, and we'll take it. Culinary Director Mark Rosati has provided one with the special edition Shackbury Easter Egg Concrete. The holiday treat is chock-full of creamy sweetness, with freshly made vanilla frozen custard, caramel sauce, and milk chocolate chunks. Yum.
April 17-20. $4.25 single, $6.50 double. Shake Shack locations in Harvard Square and Chestnut Hill. www.shakeshack.com
GOOD EGGS Kids are invited to pick up a basket and roam Faneuil Hall Marketplace to search for Easter eggs, including extra special gold ones (there are only two). The Easter Egg Hunt is part of Hop Into Spring weekend at the marketplace, which also includes a concert and an exhibit on the history of the Boston Marathon.
Saturday, April 19, 10-11 a.m. Start and finish at Quincy's Place, Quincy Market Building, Lower Level, Boston. Weekend activities continue through April 20. www.faneuilhallmarketplace.com
CRUISE INTO EASTER The bad news: this has been a reluctant spring. The good news: Easter Sunday looks to be a decent day for a cruise around the harbor. The Easter Lunch and Dinner Cruises on the Spirit of Boston feature a visit from the Easter Bunny, a balloon artist, goodie bags for kids, an ice cream sundae bar, and a special Easter menu. On the Odyssey, an Easter Brunch Cruise features a buffet, live music, the Easter Bunny, goodie bags, balloon artist, and ice cream sundae bar.
Cruises on Sunday, April 20.
Spirit – Lunch: noon-2 p.m. $54.90, $32.95 ages 3-12. Dinner: 5-7 p.m. $59.90, $35.95 ages 3-12. 866-310-2469, www.spiritcruises.com
Odyssey – Brunch: 9-11 a.m. or 2-4 p.m. $54.90, $32.95 ages 3-12, call for information on kids' free ticket deal. 866-307-2469, www.odysseycruises.com
EASTER WITH A VIEW To enjoy a skyline view and live jazz with Easter brunch or dinner, head to the Top of the Hub. Menu choices for your four-course meal include roasted leg of lamb, Maine lobster omelette, duck corned beef skillet, lemon mousse, and peanut butter chocolate cream tart. In the lounge, the Lee Childs group provides music for brunch, and the Rebecca Cline Trio plays for dinner. Free admission to the 50th-floor Skywalk Observatory is included, too.
Sunday, April 20. Brunch 11 a.m.-2 p.m. Dinner 3-9 p.m. $67, $30 under 12. Reservations required in advance. Top of the Hub, Prudential Tower, 52nd Floor, 800 Boylston St., Boston. 617-536-1775, www.topofthehub.net