NoPrimaryTagMatch
High School Students Tell Tales of Youth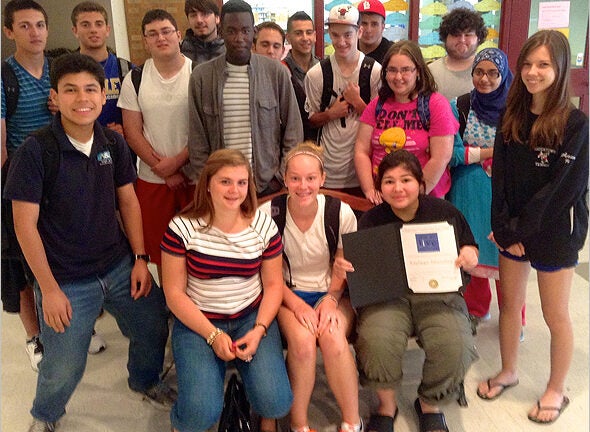 We may be living in the digital world of the 21st century, but the storytelling tradition is alive and well. Thanks to Massmouth's StoriesLive® program, it's being passed on to the next generation.
The high school story slam program started by Massmouth co-founder Norah Dooley is in its fourth year. During the week-long program, students craft and share personal stories on a given theme, then compete for scholarship awards at the regional slam, which is open to the public.
I talked to Dooley about the program's history, and this year's upcoming slam.
Where did the idea for the program come from, and how did it start?
The idea came from my experience as an educator and storyteller for 25 years. Inspired by the success of our adult program, we wanted to bring this to high school, where self-knowledge and creative expression are in their natural habitat and are most needed.
How has it grown?
The program began in November 2010 with a workshop for the entire English Language Arts faculty at Everett High School. Now, we've taught over 6,000 high school students from 15 Massachusetts high schools, and over $17,000 in scholarship prizes have been awarded to students who win the yearly StoriesLive® regional story slam.
Why is it important?
Everybody needs to know how to create meaning from the experiences in their lives. Isn't that what all literature is about? Storytelling is literature in its most organic form.
How many students will participate in this week's event?
30-40.
What can people expect at the regional slam?
Laugh, cry, and nod your head as 11th and 12th graders tell their stories on selected themes. It's a free event that will feature stories performed by high school students from Boston Latin Academy, Lynn Classical High School, South Community High School, Worcester, Revere High School, Chelsea High School, Watertown High School, Newburyport High School, and Cambridge Rindge and Latin School. Audience members can bring their own 1 minute tale of high school glory or infamy to tell between contestants.
Describe a favorite or significant moment from the program.
There are so many! Most recently, we featured this anecdote in a press release:
"An 11th grade student at Watertown High School shocked her fellow classmates when she told them about her middle school experience: 'My principal announced on the intercom that we all had to stand and sing the national anthem. I stayed in my seat. For that I was sent to the principal's office, where I had to stay for six hours, even after school closed.' This student grew up in Syria and her family were dissidents against the regime there. She told the story of her family's decision to emigrate to the United States as part of a class project for the StoriesLive® program at Watertown High School in Boston. Her classmates listened in rapt and respectful silence as she told a tale that was both personally painful and historically significant.''
The StoriesLive® Regional Slam is on Saturday, April 26, 1-4:30 p.m. Admission is free. Boston Public Library, Rabb Hall, Copley Square. www.massmouth.com