Red Sox
Red Sox opener at Fenway could be chilly, rainy affair
The next few days are complicated.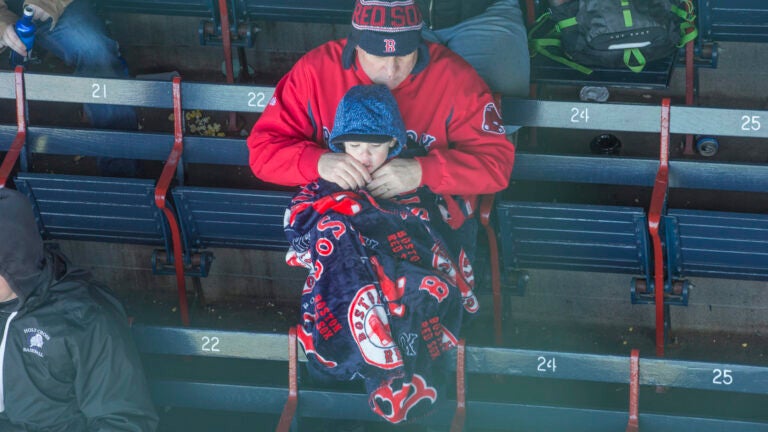 It's been a beautiful weekend across Greater Boston.
Saturday was comfortable and temperatures will reach the 60s in many spots Sunday, but it's time to start thinking about the work week and the rain that is moving into the area. A temperature drop will accompany that rain as we head for Opening Day at Fenway Park.
This time of the year we can see a huge difference in temperature north to south and day to day.
The high temperature on April 7, 1982, in Boston was 25 degrees. It can be that cold. It's not going to be that wintry for Tuesday's Red Sox home opener, but those headed to the park should bundle up. Even the players will feel the chill waiting for fly balls in the outfield.
The next few days are complicated. First up is the warm air trying to move northward Monday, which will bring rain. The area could get as little as a tenth of an inch to as much of a half an inch of rain, which will move in during the morning commute and exit in the afternoon.
A cold front will pass offshore at night. If this front were to keep moving farther south, Tuesday would be nice, but instead, the front's likely to stall.
To the north of this front, very chilly air will leave temperatures in the 30s all day across Maine and New Hampshire on Tuesday. In southern New England, a little wave of low pressure may bring more wet weather later Tuesday. Boston will be on the cold side of this system, meaning temperatures Tuesday will stay in the upper 30s to mid-40s.
There's little doubt it's going to be chilly, but the forecasting challenge is whether or not there will be any precipitation during the afternoon and if it will be more than just a little drizzle, which would be uncomfortable but wouldn't put a stop to the game at Fenway.
The amount of rain looks small enough that the game should be played, but it's going to be a very close call, especially as the innings stack up. As that wave of low pressure moves along the frontal system, rain could develop in Boston.
Those heading to Fenway should plan on bringing a warm cap, some gloves, and even hand warmers to the game. Sitting inactive in 40 degree weather can really bring on the chill.
Once the system passes it remains chilly for Wednesday, but milder conditions will emerge towards the end of the week.
Overall the pattern looks unsettled and the next forecast challenge will be for the Boston Marathon. Presently Monday looks cool and the timing of a predicted storm will determine if racer have dry or wet weather.