Community
Extreme weather has Boston.com readers worried about climate change
"This community is in big trouble unless we come together and talk about our future."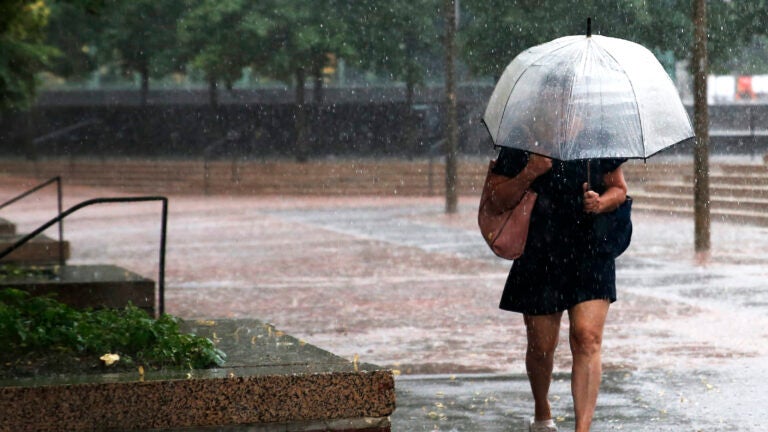 It's going to be another stormy evening in Boston, but in addition to the near-constant rainfall we've seen the last couple of weeks, we've also got a haze hanging over the city and surrounding areas — a direct result of the ongoing wildfires happening on the West Coast.
Extreme weather events in the last month have brought increased attention to the ways climate change is felt on both local and global levels. In the last month, we've seen triple-digit temperatures in the Pacific Northwest, extreme wildfires in California, and abroad in Germany, disastrous flooding that left 170 people dead.
After Hurricane Elsa left several towns in the Bay State flooded earlier this month, we asked Boston.com readers how worried they were about how the effects of climate change would impact their own communities. We heard from 144 readers and 63% of them said they were very concerned about the issue.
"I am worried that we are only seeing the start of what is to come from extreme weather," said Ian from Arlington. "People will continue to be surprised by the heat and the flooding in particular, and run out of places to go with regional weather events."
The first week of July in Boston was the wettest in more than a century, according to the Boston Globe. Boston, and other eastern Massachusetts towns, are particularly vulnerable to rising sea levels, which raises concerns for the MBTA, sewer system, and other infrastructure.
"Rising sea levels in coastal communities like Nahant, changing water temperatures affecting marine ecosystems, flooding, [and] disappearing natural protection like dunes from erosion and storms," were some of the climate concerns pointed out by one reader. Others said their most pressing concerns were about food security and environmental justice issues.
"I'm concerned about how the climate crisis will be hardest on people who already have fewest resources," said one reader.
Thirty-seven percent of the readers polled said they weren't feeling distressed about climate change or extreme weather events.
"Weather is cyclical," one reader wrote. "We should worry about our trash and plastics pollutants, things we can really change."
Among those readers were those who felt the threat of climate change wasn't yet a pressing issue.
"If or when it ever is a direct threat, I'm sure that people will have more than enough time to develop the necessary plans to compensate for the change," said Paul from Salisbury.
At least 97% of actively publishing climate scientists and most of the leading scientific organizations worldwide agree that climate-warming trends over the past century are due to human activities. In March of this year, Gov. Charlie Baker signed a sweeping climate change bill with the goal of creating a net-zero greenhouse gas emission limit by 2050. The law also includes protections for "environmental justice populations," or lower-income communities facing greater health risks from pollution.
For readers who're already feeling the impacts of climate change in their backyards, actions like that can't come soon enough. Heather Goodwin has lived in Nahant for decades and said her concern for her community is at an all-time high.
"As ocean levels rise, the sea is coming closer to our main road here in Nahant. Flooding is a regular occurrence and our sea walls are old and damaged. The last big storm closed our causeway, the only road in or out of the town. This happens regularly now," she said. "I've lived here for 48 years and I've never seen the tides as high as they are now. This community is in big trouble unless we come together and talk about our future."
Several of our readers shared their thoughts on climate change and how they've already seen it impacting their lives. Below is a selection of those responses.
Some responses have been edited lightly for clarity and grammar.
How concerned are you about climate change?
"Climate change is impacting our communities already! I'm concerned about what it will mean for my 8-year-old's quality of life as he grows up in a world impacted by climate change. I'm concerned about how a changing climate will impact local agriculture and food resources. As a family that enjoys being outside and exploring in nature, I also have concerns for how it impacts the overall health of the flora, fauna, oceans, and wetlands." — Liz, Waltham
"I'm terrified for my kid and we're just starting to see the effects of climate change. 118 degree days in Portland and Vancouver? In Siberia? Do you honestly think we'll escape that in New England? Or that we'll be able to handle the refugees from the rest of the country? People should be demanding decarbonization NOW. I can't believe we're arguing about this at all. We need all hands on deck." — Jonathan, Fields Corner
"Sea level rise and coastal flooding is the obvious concern, especially in the next 10-15 years when the moon's orbital wobble will intensify tidal amplitude. But I'm also concerned about the extreme heat that will threaten lives, strain infrastructure, and cause more mild winters and disease-causing insects along with them."
"I'm a gardener and I have seen significant changes in my garden over the past several years. Some plants are flowering and ripening earlier than before. Other plants are not flowering at all. We have had a lengthy dry spell followed by a very wet spell. The native plants are just not used to this. I am also seeing far fewer pollinators of all kinds." — Trudy Macdonald, Melrose
"Even now our weather has been ruined this year. Everyone thinks about the severe damage to ecosystems in the future, rising seas, and more extreme weather in the future. It's already here." — Remy Lovell, Dorchester
Boston.com occasionally interacts with readers by conducting informal polls and surveys. These results should be read as an unscientific gauge of readers' opinion.
Newsletter Signup
Stay up to date on all the latest news from Boston.com