Local
Here are all the things the MBTA is doing to combat the snow
Heaters, anti-icing, and sand – oh my!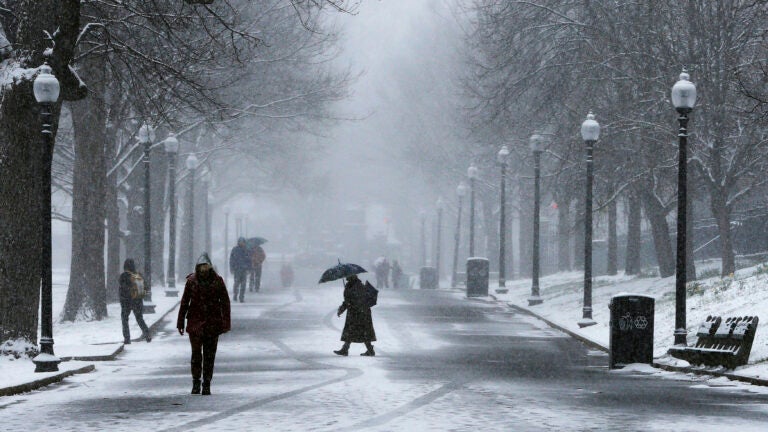 The MBTA's Winter Resiliency Plan became a Spring Resiliency Plan as the transit service dealt with several inches of snow on Sunday and Monday.
Beginning on Saturday and continuing through Monday, the MBTA has undertaken a number of actions to battle the April cold, ice, and snow, according to Mass. Department of Transportation spokesman Jason Johnson.
For one, the T ran its anti-icing/snow trains overnight, one part of the transit system's $83 million in improvements to the service's ability to deal with winter conditions. The T also utilized its switch heaters, some of which have been replaced since last year, to keep rails free of icy buildup.
In addition, Johnson detailed a series of preparatory steps for the storm, which is expected to drop between two to five inches of snow on Boston:
Observation trains ran on the D-Line and Mattapan Line Sunday night into Monday morning.
MBTA Storm desk activated at a level 1 at 5 a.m. for Monday morning.
Equipment was stationed to treat busways and facilities.
Supervisory staff with personnel were ready to sand and shovel system wide.
Contractors have been notified and prepared to treat stations and platforms.
Construction/project sites were secured and prepared for wind.
The power department had additional wire crews stationed at Reservoir to respond to any wire issues.
Overall, the T has so far avoided the type of widespread failures that severely hampered last winter's service amid record snowfalls.
As of mid-morning on Monday, the T experienced minor northbound delays on the Red Line, but had no issues on the Orange, Green, or Blue Lines.