Local
Watch: People are witnessing thunder snow across New England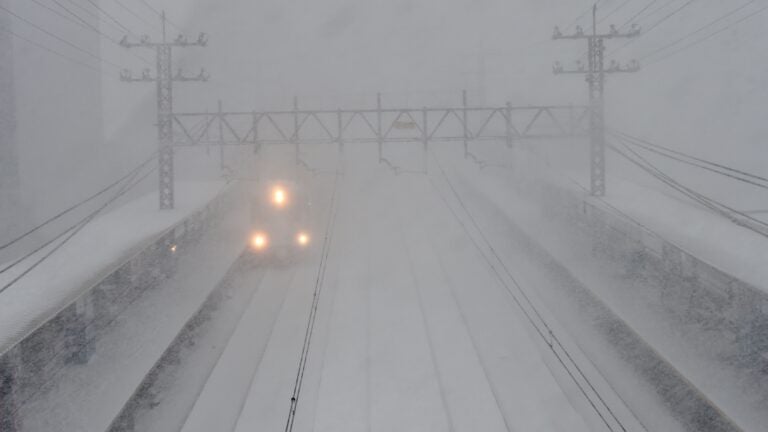 The nor'easter battering New England Thursday has wrought a rare phenomenon: thunder snow.
As the storm swept across the region, people posted videos that captured the rumbling snowfall — and sometimes their startled reactions — online.
"It shouldn't surprise you if you hear thunder and see some lightning during the storm," Boston.com meteorologist Dave Epstein said of Thursday's storm. "If this is the case, you are experiencing thunder snow — and some of the most intense snowfall rates we'll see."
According to Epstein, the heaviest snow Thursday will occur from 10 a.m. to 5 p.m. with some areas seeing a foot or more of accumulation.
While none of these reactions can top The Weather Channel's Jim Cantore's thunder snow excitement in 2015, it's still getting a lot of love from New Englanders.
We just had Thunder Snow here at the NWS Office in Taunton.

— NWS Boston (@NWSBoston) February 9, 2017
#Thundersnow in Northern RI @JimCantore @PinpointWXTeam @NWSBoston 10:15am pic.twitter.com/9hcfO803FX

— John Piascik (@Woods826) February 9, 2017
I've never heard so much thundersnow in my life….It's awesome #WTNHWeather

— Kevin Arnone (@Kevin_Arnone) February 9, 2017
thunder snow!!! wait for it…. @NEweatherHQ @NBC10_Joe @PinpointWXTeam @SNEweather4 @StormForce_1 pic.twitter.com/1BnkbPVK7a

— jenlovespepsi (@jenlovespepsi) February 9, 2017
@ryanhanrahan @bobmaxon @JimCantore @ericfisher @StevePetyerak more thundersnow in Avon CT — Unbelievable pic.twitter.com/OMQCnWxL2n

— Eric Loh (@lohshow) February 9, 2017
Ladies and gentlemen this is THE THUNDERSNOW STORM !!! pic.twitter.com/bJRXi0h6D6

— Jim Cantore (@JimCantore) February 9, 2017
Just saw thundersnow in Dorchester !!

— Lauren Dezenski (@LaurenDezenski) February 9, 2017
Thundersnow in West Hartford, CT. @weatherchannel @BradNBCCT @JimCantore @bobmaxon pic.twitter.com/2gd90fYEdP

— Jena Janovy (@JenaJ34) February 9, 2017
THUNDERSNOW!

THUNDERSNOW!

THUNDERSNOW!

THUNDERSNOW!

THUNDERSNOW!

THUNDERSNOW!

THUNDERSNOW!

THUNDERSNOW!

THUNDERSNOW!

It's lit!

— Only In Boston (@OnlyInBOS) February 9, 2017
Thundersnow in Trumbull, CT! pic.twitter.com/tnZTWkvFHq

— William Feher (@wfeher14) February 9, 2017
VIDEO: Just saw bright flash of lightning. #Thundersnow in Bristol, #Connecticut a few minutes ago! ⚡️? pic.twitter.com/I11liMvDaL

— Kevin Galliford (@KallMeKG) February 9, 2017
Just had THUNDER SNOW in Southeastern #Massachusetts!

— Bristol Aggie NRM (@NRMBristolAggie) February 9, 2017