Local News
Blizzard could drop 2 feet of snow on some parts of Mass.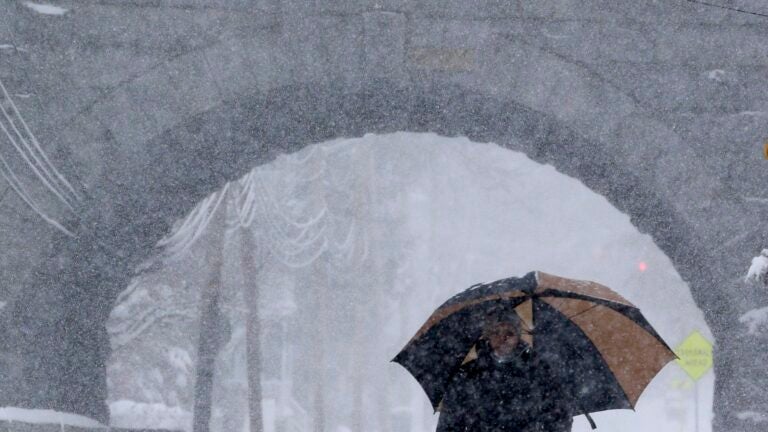 Winter has decided to return for an extended stay. While Boston stayed above its record low for the date Sunday morning, a balmy 9 degrees didn't exactly do much for the 'think spring' mantra.
With an impending nor'easter, the daffodils will have to wait.
Not much has changed in terms of expectations for this one. It's been well modeled many days in advance and we're still on track for a high-impact winter storm. We're not talking about a recordbreaking or historic event in the Boston area, but many will still pick up a foot of snow or more, and strong winds will make power outages and coastal flooding a strong possibility.
The combination of blowing and drifting snow and strong winds are why blizzard conditions are expected during the height of the storm.
Snow should break out between 4 a.m. and 7 a.m. Tuesday from south to north, and then increase in intensity as we head toward late morning with the heaviest snow continuing through the early evening. It will be a pretty quick nor'easter with the majority of the snow coming in a 6-to-8 hour time span.
The one thing I'd say we can now take off the table is a track farther east and out to sea. Of bigger concern is how much mixing (rain and sleet) will occur, especially in Southeastern Massachusetts.
I'm favoring a track that would take the storm center over Nantucket or even Cape Cod. This would be enough to wrap milder air (40s) across Cape Cod and the islands for a time with low to mid-30s inside the Route 128 corridor.
Mixing makes for a trickier forecast because you have to consider the initial snow thump, then the compacting with rain, and then a likely return to snow at the tail end of the storm.
This type of track should put the heaviest snow bands around the Interstate 495 corridor and into Worcester County/southern New Hampshire.
With temperatures in the 20s, a fluffier snow that stacks up easily looks the way to go, and 12 to 18 inches is the call. Nor'easters like these often feature a zone of banding where snowfall rates of 1 to 3 inches per hour can lead to localized higher totals. Though this storm is moving pretty quickly, we may see some 18-to-24-inch totals in those bands (more the exception than the rule).
While Cape Cod, the islands, and immediate coastal towns are expected to see lower totals, they will also get a wetter and heavier snow and then the stronger wind gusts. Power outages are to be expected due to this combination.
The city of Boston down across the South Shore, coastal Plymouth County, and the South Coast should see 6 to 12 inches. For Cape Cod 3 to 6 inches is expected with 2 to 4 inches on Nantucket before the change to rain. Peak gusts during the afternoon and evening on Tuesday should reach 50 to 65 miles per hour at the shore, and some isolated gusts may even top 70 miles per hour on Cape Cod and Nantucket as well as Cape Ann.
Inland areas should max out with the wind gusting at 35 to 55 miles per hour, which may still produce power outages.
The strong northeast winds will pile up water, with pockets of minor to moderate coastal flooding. The high tide cycle to watch is around 12:30 to 2:30pm Tuesday with a storm surge of about 2 to 3 feet on top of the already higher than usual astronomical tides, thanks to Sunday's full moon.
Then we'll need to keep tabs on the following high tide after midnight Wednesday. Winds will have come around more northerly at this time, so the bay side of Cape Cod and Nantucket are expected to be particularly vulnerable, along with any other north or northeast facing beaches.
Bottom line is that it's essentially a snow day situation across the region with hazardous travel, significant snow, and gusty winds. Not a monstrous, historic blizzard but a solid snowstorm, especially by mid-March standards. I wouldn't count much on t sun angles or the time of year keeping the amounts down because snowfall rates should be strong enough to overcome it, and all surfaces are very cold considering the air currently hanging out around New England.
Roads will be a lot messier than they were during the light snow event Friday.
There is still some upper-level energy behind the storm, which could keep scattered areas of snow and snow showers around on Wednesday. The intensity won't be nearly as much of an issue, but some additional minor accumulation is possible. And we won't be melting the new flakes very quickly. Highs are expected in the low 30s Wednesday and Thursday and mid-30s by Friday. A cold stretch for mid-March!
The all-important "What could change?" part of this forecast: We'll be watching for any wobbles farther west. This would bring more rain/mixing into eastern Massachusetts, lower totals, and also drag a dry slot across the region during the day, which would shut down the snow. That would of course act to bring down totals.
There are always some uncertainties when it comes to winter storms so keep tabs on any possible changes over the next 24 hours.
Eric Fisher is chief meteorologist for WBZ-TV (Ch. 4).