Weather
Boston's New Year weather forecast — 2021 to fizzle out with a little drizzle
The Northeast will see some minor rain and snow this week as parts of the U.S. grapple with high temps and whiteout conditions.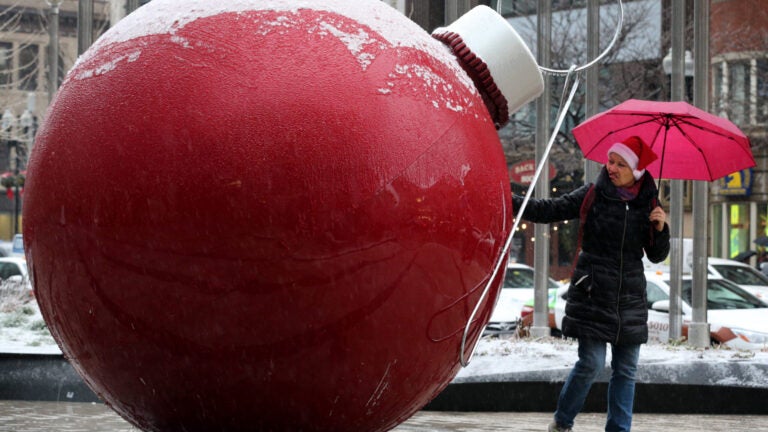 Bostonians can expect a week of uneventful weather to ring in the New Year.
After a cold and drizzly Christmas Day, the region is due for more of the same — some wintry precipitation, but no major snow events.
The National Weather Service's Boston branch forecasts a clear and cold Sunday leading to a mostly sunny start of the week on Monday, with a high near 36. There's a 30 percent chance of snow late Monday night — between 11 p.m. and 5 a.m. — although accumulation is unlikely.
Tuesday will be mostly cloudy with a high near 44 and a chance of rain and snow due after midnight. Wednesday morning may see rain and snow before 9 a.m., with a high of 42 and cloudy skies to follow. Thursday will see some sun mixed with clouds and rain, with a high near 45.
The Boston area will close out 2021 on Friday with mostly sunny, calm skies and a high of around 40 during the day. New Year's Eve will be dry, with a low around 26.
The first day of 2022, on Saturday, may see some rain and snow.
White the Northeast saw some unseasonably warm days leading up to the holiday week, the Southern U.S. dealt with record-breaking Christmas heat.
Texas Toast: Christmas heat soars in South
Christmas Day highs soared in Texas and Oklahoma, rivaling July temperatures. Meteorologists expect as many as 200 records could break in the South between Christmas and Wednesday thanks to a push of warm air across the region.
Dallas hit a record 81 degrees on Saturday, according to the NWS, beating the previous 2016 record by one degree.
The Southern hot streak will close out the New Year, likely breaking more temperature records. The warm, dry weather has also sparked level 2 of 3 fire danger warnings for parts of Texas, Oklahoma, and eastern Colorado, according to the Storm Prediction Center.
Winter whiteouts in the West
A winter storm warning is looming over more than 6 million people across the Western part of the U.S. as most of the region saw a rare White Christmas. Arctic air pushing across the Pacific Northwest caused the holiday snowfall in Portland and Seattle.
Travelers heading to or from the Pacific Northwest should brace for transit disruptions. A state of emergency is in effect in Oregon through Jan. 3, with the potential for hazardous snow and subfreezing temps.
Newsletter Signup
Stay up to date on all the latest news from Boston.com