Snow
Coastal communities prepare for potential flooding from storm
"We're into the part of the month where it's the higher of the high tides."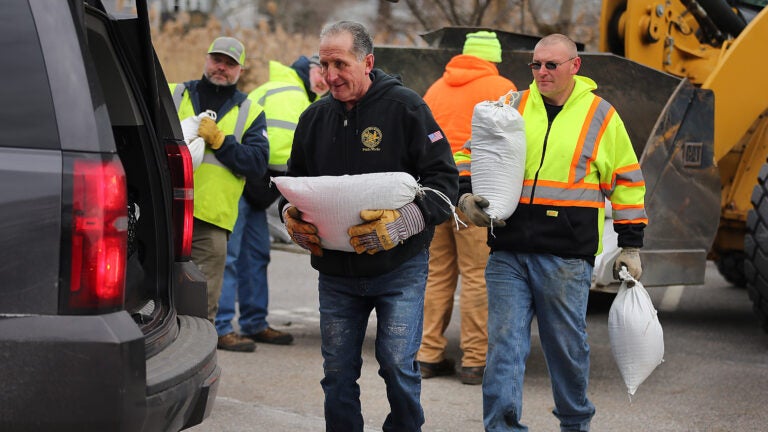 With eastern Massachusetts possibly being "on the cusp of a historic snowstorm," residents of at least one local community are being asked to consider evacuating.
In Scituate, officials asked residents to consider leaving for the duration of the storm, and sandbags are being handed out.
Meanwhile, up on Plum Island — where seaside homes have long been under the threat of beach erosion — there's concern that barrier island north of Cape Ann could flood.
"We've done a pretty good job in the last day (before a storm) since 2015 of really expressing to people when we say evacuate, they listen," Scituate Fire Chief John Murphy told WCVB.
"We don't say it all the time. We only say it when it's really needed," he said. "And this one here, you know, it's going to be a strong storm. The tides and timing, we may get a little bit lucky with light to moderate flooding."
Snowfall predictions along the coast are currently 18 inches to the possibility of over two feet. Greater Boston is predicted to be in the 18- to 28-inch range. Inland, it's a little less, but with amounts well over a foot still likely.
Along the coast, a storm warning and blizzard warning have been issued, according to meteorologist David Epstein. Wind is predicted to hit potentially over 60 miles per hour on the Cape with over 50 miles per hour along the North and South shores.
Still, Epstein said that Saturday's tides are predicted to come just before the worst of the storm, and the one Saturday night isn't predicted to be as large. However, he did say there will be coastal flooding, but since winds are moving north, it should not lead to major flooding.
"We anticipate some splash over with the 8 a.m. high tide, but the potential for minor to moderate flooding with the 9 p.m. high tide," the Scituate town officials said in an advisory. "Please move your vehicles from the flood prone areas by Friday evening."
Authorities also said to plan to finish errands before the storm starts. The town was also putting together sandbags for residents to use to combat rising water.
"The Town will provide between 200-300 sand bags for Scituate residents & businesses Friday morning, January 28th at 9:30 AM" at the St. Mary's Church parking lot, town officials wrote.
Officials in Newburyport, meanwhile, are preparing for the likelihood that Plum Island could flood during the storm. Plum Island spans areas of Newburyport, Newbury, Rowley, and Ipswich.
"We're into the part of the month where it's the higher of the high tides, so it takes that much less of a surge to cause problems," Andy Nash with the National Weather Service told The Daily News of Newburyport.
At least one coastal home was condemned there, and several others damaged, following the Martin Luther King Jr. Day storm earlier this month, according to the newspaper.
Boston, of course, is also anticipating some flooding, although officials are hopeful it won't be too damaging.
"The concern of this storm is that you have two things happening at once: You have a major storm with high winds, alongside a king tide," said Chief of Streets Jascha Franklin-Hodge during a press conference on the city's storm preparedness Friday with Mayor Michelle Wu. "And so when those two things sync up exactly, that can create the potential for substantial flooding, especially in coastal areas."
But Franklin-Hodge says luck may be on the city's side this time around. "We've been monitoring the timing of those two things, and at this point the trend has been in a positive direction," he said. "We're hopeful that we'll avoid the potential flooding scenarios."
Still, he encouraged people who live in low-lying areas to "pay attention to the forecast" — and to turn around if they come upon water on the roadways. "You do not know how deep it is," he said. "So people should take all reasonable precautions."
Boston.com staff writer Christopher Gavin also contributed to this story.
Newsletter Signup
Stay up to date on all the latest news from Boston.com