Weather
These are the top 10 Boston-area snowstorms on record
No, the Blizzard of '78 is not No. 1.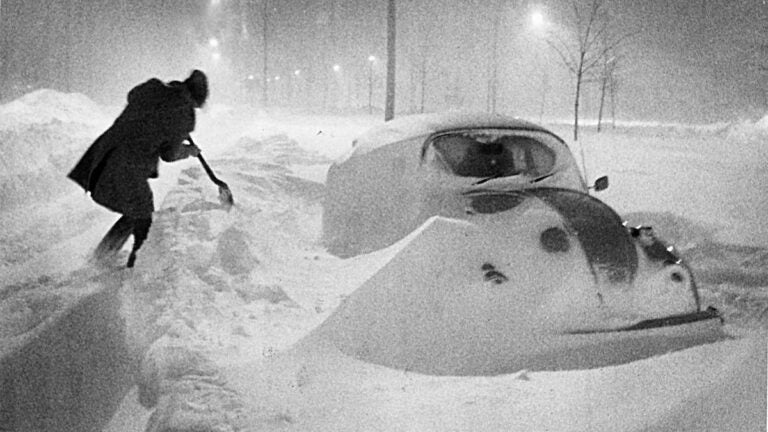 Meteorologists say a potentially-historic snowstorm is in store for Boston this weekend, when a nor'easter barrels into southern New England on Saturday.
The city itself stands to see between 18 to 28 inches of accumulation, while areas of Massachusetts outside the I-95 belt and portions of Rhode Island and Connecticut could experience snowfall between 12 to 18 inches, according to meteorologist David Epstein.
A blizzard warning was issued by the National Weather Service on Friday for much of eastern Massachusetts and Rhode Island.
"Snowstorms and blizzards are nothing new to New England, but the intensity of this storm could be what we all remember," Epstein wrote in his forecast on Friday morning. "The largest amount of January snowfall in Boston was 24.6 inches, a record set in 2015, and the biggest snowfall of all time occurred on Presidents' Day weekend in 2003 with 27.6 inches of snow."
But when the flakes stop falling this weekend, there could be a new snowfall record in Boston.
According to the weather service, the Boston area's record to beat is 27.6 inches of snow, which fell over a two-day period ending on Feb. 18, 2003.
Notably, snowfall total records may vary between the weather service and other outlets and sources. The weather service, which has records dating back to 1891, generally uses a two-day storm window to track historic snowfall, whereas other meteorologists may use a three-day or four-day outlook to log accumulation totals.
Saturday's storm could stretch into Sunday morning and then taper off, which makes the two-day window all the more apt for comparison.
With that, here's a look at the Boston area's top 10 snowfall accumulations on record with the weather service:
Feb. 18, 2003: 27.6 inches
Feb. 7, 1978: 27.1 inches
April 1, 1997: 25.4 inches
Feb. 9, 2013: 24.9 inches
Jan. 27, 2015: 24.4 inches
Feb. 17, 2003: 23.6 inches
Jan. 23, 2005: 22.5 inches
Jan. 28, 2015: 22.3 inches
Feb. 9, 2015: 22.2 inches
Jan. 21, 1978: 21.4 inches
Dates listed are the end date from a two-day period of snow accumulation.
Newsletter Signup
Stay up to date on all the latest news from Boston.com