Weather
Officials provide preparation tips ahead of 'potentially historic' snowstorm
"Residents are urged to stay off roadways if possible during the storm."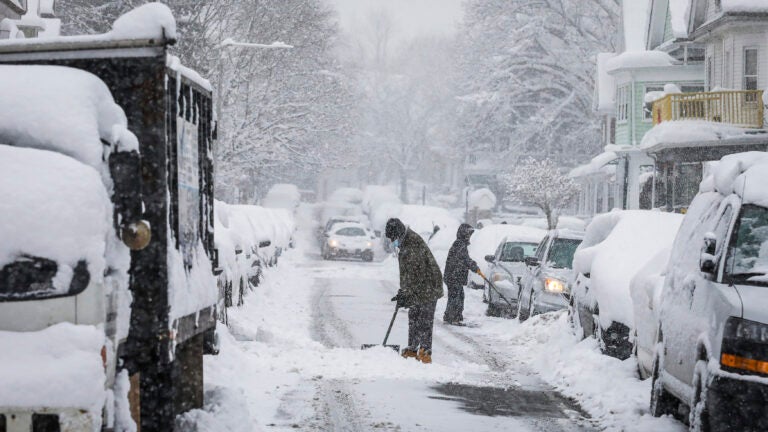 With all eyes on a potentially "historic snowstorm" forecast to impact Massachusetts on Saturday, officials are offering tips on preparation and preparedness.
Before the storm, residents should stay informed, have an emergency plan, and prepare for potential power outages, according to the Massachusetts Emergency Management Agency. The agency also said to prepare your home and make sure your vehicle is ready for winter driving.
"Falling and blowing snow with strong winds and poor visibility will lead to dangerous travel conditions," the agency said on Twitter. "Residents are urged to stay off roadways if possible during the storm."
The agency also said to be sure to check generators, keep your phone and electronics charged, make sure you know where flashlights are, and have extra batteries.
The Cambridge Fire Department told residents to secure any items outside that could get blown away.
Eversource told residents to find their gas meter and mark it.
"Keep it clear of ice and snow to ensure that it's working safely and reliably," the company said.
With cold weather also comes the potential for frozen pipes. To make sure water continues to run in your home, Frank Gomes, of Gomes Plumbing Heating and Cooling, said to keep your home heated above 50 degrees and let water run at a trickle.
If the pipes do freeze, Nate Johnson, of Johnson Bros. Plumbing & Drain Cleaning, suggested opening the cabinet where they are to let warmer air in. It's also possible to unfreeze them with a hair dryer, he said.
Newsletter Signup
Stay up to date on all the latest news from Boston.com