National
Texas winter storm: What to know
The scope of the disaster led President Joe Biden to sign a major disaster declaration, which would enable the government to provide more aid to Texas, before a potential visit to the state next week.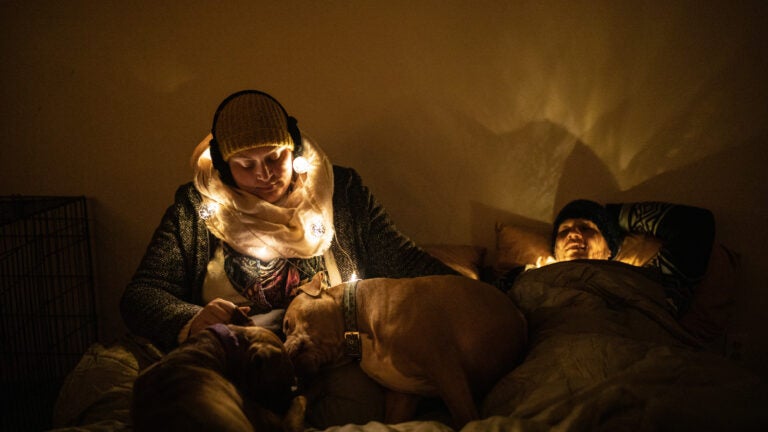 Texans were tossed from one crisis to another this week as frigid temperatures and winter weather battered the state and the surrounding region, leaving many people in dire situations and grasping for the most basic of needs.
First came the power grid failures, which left millions without electricity and heat in the cold. Then, as power began to be restored, millions more Texans discovered that their taps had run dry, pipes had burst or water treatment plants had failed, and that they had to boil their water before using it.
The storms have also delayed the federal government's delivery of vaccines to several states, including Texas, and caused a shortage of food at some grocery stores and food pantries.
By Saturday, although power had been restored to most people across the region, 69,000 people in Texas, 61,000 in Mississippi and tens of thousands more in Louisiana, Kentucky and West Virginia were still without electricity.
And water systems serving a majority of the state's 254 counties continued to be disrupted, meaning millions of people remained without running water or under notices to boil their tap water, the Texas Commission on Environmental Quality said.
The scope of the disaster led President Joe Biden to sign a major disaster declaration, which would enable the government to provide more aid to Texas, before a potential visit to the state next week. In Austin, Gov. Greg Abbott also convened a meeting of legislators Saturday to discuss complaints about gigantic electric bills from some consumers.
"It is unacceptable for Texans who suffered through days in the freezing cold without electricity or heat to now be hit with skyrocketing energy costs," Abbott said in a statement before the meeting.
Here's what to know about the ongoing crisis.
Why did the power go out?
As many as 4 million people in Texas were without power this week during the peak of the electricity outages, and many also lost access to heat, a combination that led to dangerous conditions across much of the state. Even as power is restored, many Texans are still struggling with rolling outages.
The state's power plants were not ready for the freezing conditions. Natural gas was hit hardest; production froze, as did pipelines that transport the gas. The problem worsened as people turned up the heat, further increasing the demand for natural gas and contributing to the shortages at power plants that use the gas to produce electricity. High gas prices made the problem even worse as operators who could not make a profit took their plants offline.
Coal and nuclear power plants were also disrupted, and wind turbines froze, but the disruption to natural gas was most crucial — and most severe. During the Texas blackouts, the state's grid lost roughly five times as much power from natural gas as it did from wind. As demand hit a record high for winter, the grid operator instructed utilities to begin controlled power outages to avoid long-term damage.
At least 58 people have died in storm-battered areas.
The winter storm's effects were most acute in Texas, but many states were hit hard, and the results were dire. At least 58 people have died in a storm-battered region that stretches to Ohio, and the final tally could be much higher.
Those who died succumbed to hypothermia, house fires, drownings and car crashes, or were found in homes or cars after being fatally poisoned by carbon monoxide, often emitted by vehicles or generators.
The water shortages, power outages and burst pipes also made it harder for hospitals to care for patients. One man died at a medical center in Abilene, Texas, when he was unable to get dialysis treatment, which requires large amounts of filtered water, as well as electricity and heat.
In Houston, a woman died in her idling car, which was parked in her garage, where she sat while charging her phone. She was talking on the phone to a friend when she started to feel tired. When the police arrived hours later, at the urging of the friend, they found that the woman and her 7-year-old daughter had died. Her husband and 8-year-old son were hospitalized. In Conroe, Texas, an 11-year-old boy died in his bed, even after his parents and siblings had huddled in one bedroom because of the cold, the police said.
Why is the water dangerous in some places?
Burst pipes, frozen wells and water treatments knocked offline by the winter storm and power failures have led to a water crisis across much of Texas, where millions have no running water or are under orders to boil it before use.
Many people twisted sink handles and got nothing out of their faucets. Residents have been unable to bathe, wash their hands or use the toilet. In Harris County, which includes Houston, more than 1 million people either did not have water or were told to boil it first, and in Austin, the capital, residents were told to boil water because of a power failure at the city's largest water-treatment facility.
Officials said restoring water service to hospitals was the first priority.
"We never imagined a day where hospitals wouldn't have water," Greg Meszaros, director of Austin Water, said this week.
People are also struggling to find food.
Without water and after days of power outages, many Texans have lost perishable food and are struggling to get more.
Many grocery stores have been picked clean or have been closed, and food banks are handing out food as quickly as they can.
More than 500 cars lined up Friday morning at the headquarters of the San Antonio Food Bank, which hoped to distribute 100,000 pounds of food and water over the weekend. At the site, volunteers and members of the Texas National Guard assessed pallets of bread, peanut butter, cakes, potatoes, onions, watermelon and other fresh produce, readying the food for residents hit hard by blackouts.
Are schools open?
The two largest public school districts in Texas will be closed for several days after the storm and the ensuing chaos, officials said, and several other school buildings have been damaged, delaying in-person and virtual classes.
The Houston Independent School District, the state's largest, said it would be closed until Wednesday, when virtual learning will resume, followed by in-person learning on March 1. Dallas Independent School District, the state's second-largest, will also be closed Monday and Tuesday as crews clean up water damage and repair pipes, the district said.
Near Fort Worth, the Arlington Independent School District said 26 school campuses had been damaged, some of which were having flooding and boiler issues. But the superintendent vowed that remote classes would begin Wednesday as well.
"Mother Nature dealt us a hard blow," Marcelo Cavazos, the superintendent, said in a statement. "We know our families and our teachers are facing many of the same challenges at their homes. We want everyone to take Monday and Tuesday of next week to focus on their needs."
Many other schools suffered burst pipes, plasterboard erosion and water damage.
How can I help?
TEXAS
The Houston Food Bank is collecting donations to help feed people. A total of 150 meals can be provided with a donation of $50, the organization says.
The Austin Disaster Relief Network is accepting donations to provide people with emergency housing, gift cards and supplies for short- and long-term needs.
Getting food to people in need can be difficult, especially when the bitter cold strains local energy grids. Organizations that are on the ground and helping feed people include the North Texas Food Bank; the San Antonio Food Bank, which serves southwestern Texas; and Feeding Texas, which partners with nearly two dozen food banks throughout the state.
Front Steps, an Austin-based organization working to end homelessness, is running a winter blanket drive. Instead of "blessing bags, snack bars, etc.," the group notes, blankets have a "lasting impact." The group says that acrylic blankets are preferred. (Wool may irritate damaged skin, and cotton easily retains moisture.)
In Lewisville, about 25 miles north of Dallas, the Salvation Army is looking for food and supplies, including gloves, towels, soap and moisturizer.
OKLAHOMA
The Homeless Alliance in Oklahoma is asking for donations so it can operate its day shelter and extend its street outreach efforts. According to the organization, it can provide a week's worth of lunches to a person at its day shelter with a donation of $4.
The Regional Food Bank of Oklahoma has an ongoing call for financial contributions, as well as donations of nonperishables and dry goods.
LOUISIANA
The Acadiana Regional Coalition on Homelessness & Housing, which serves eight parishes in the state, is seeking donations to both its general fund and its emergency hotel shelter fund.
According to the Foodbank of Northeast Louisiana, one in five people in its area faces hunger. The organization says it can provide 55 meals with every $10 donation.
BEFORE YOU DONATE
Make sure to research any organization on trusted sites like Charity Navigator and GuideStar, which rate nonprofits based on their effectiveness and financial condition. These sites can also show whether the organization's goals and practices align with your values and beliefs.
The Internal Revenue Service's database can tell you if the organization is eligible to receive tax-deductible donations.
After disasters like crippling storms, there is often an increase in fraudulent activity. If you suspect an organization or person may be committing fraud, you can report it to the National Center for Disaster Fraud.
Get Boston.com's browser alerts:
Enable breaking news notifications straight to your internet browser.