New England Travel
Here's David Epstein's fall foliage guide for New England
The best places to go leaf peeping in New England this fall, according to meteorologist David Epstein.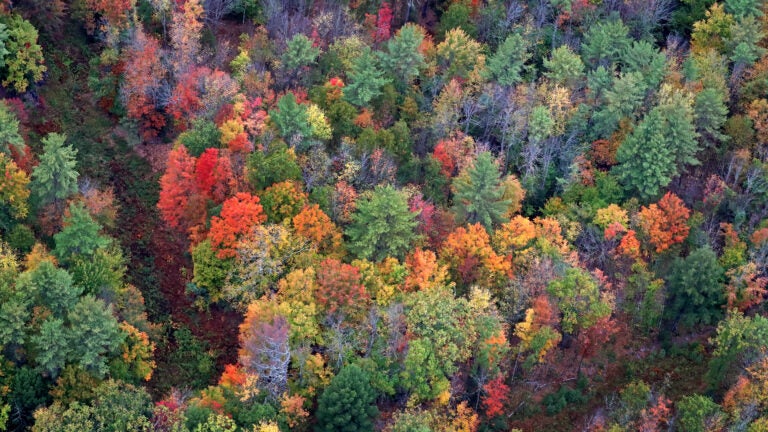 With kids back in school and the weather turning cooler, it's time for everything pumpkin and the plethora of fall activities. This, of course, includes checking out the palette of colors nature will paint across the landscape in the coming weeks. Here in New England, we are blessed with a very long season of potential foliage viewing. Every year is a little different, but no year is without some brilliant color.
There are many elements that determine the type of leaf peeping we will have: The health of the forest canopy, the late summer and early fall weather, and just a bit of luck all factor in.
People often stress over finding the spot they think will have the best foliage, or picking the best week for viewing. Don't get yourself in this quagmire! The season is long and there are countless places to view the colors. The term "peak foliage" is often used to describe the window when most of the trees in a particular area have changed, but when the amount of leaves that have fallen isn't so extensive that bare trees outweigh those with some foliage. Before and even after the so-called peak, there are plenty of areas with impressive displays.
This year, there has certainly been adequate precipitation in New England, meaning the canopy is thick and full. Leaves are large and healthy. Some deep cold in February helped kill a few of the more invasive insects, allowing the trees — especially in Northern New England — to grow without a lot of damage. That said, there are always going to be pockets where certain pests have affected the foliage.
In the weeks ahead, keep an eye on the rain and humidity. High levels of these create perfect environments for some of the leaf fungi and bacteria that can dull fall color. If there are many humid days or excessive rainfall, this could promote a more muted display of colors. However, if we see a lot of sunshine, adequate — but not too much — precipitation, and no early freezes, foliage could come on particularly brilliantly and last for several weeks.
While it is impossible to list every viewing opportunity across the region, here are some thoughts on areas to explore in each state — and when to go. I suggest using something such as Google Maps to create your own route, adding in stops you want to make and thinking about places to rest, walk, and eat. Be open to getting lost, enjoy the process of exploration, and don't chase perfection — it's all good!
---
Watch David Epstein on Boston Globe Today:
---
Vermont
Northern New England's westernmost state also is one of the most elevated. With no seacoast, the foliage starts appearing by the middle of September in the highest elevations and is already peaking before month's end.
Route 100 is probably the most famous drive because it's long and winds through many scenic towns. The Northeast Kingdom can often get overlooked; the area around Lake Willoughby is absolutely stunning. St. Johnsbury and Lyndonville offer places to get lunch. You can also stop in Sutton in that area.
You'll definitely see color into early October, but by Columbus/Indigenous Peoples' Day, things will be waning quickly. In Southern Vermont, drive from Newfane to West Townshend and poke along some of the side roads, where there is great foliage into mid-October. Maple, beech, and birch make up much of the deciduous forest in this region and each will bring shades of red, orange, and yellow.
New Hampshire
With the highest peak in New England and a coastline, New Hampshire boasts the greatest difference of elevation in the region. This affords you the opportunity to start viewing foliage in the final week of September and continue until after Columbus Day weekend in the Seacoast area.
The Kancamagus Highway — New Hampshire Route 112 — is the most famous drive for leaf peepers, but Route 302 up through Crawford Notch is, in my opinion, equally stunning, in addition to bringing early color. The Lakes Region boasts its best color in early October, including in the Lake Sunapee area, which peaks around Columbus Day, with gorgeous sugar maples, Aspen, birch, beech, and ash.
Route 2 in the north, through Gorham and Jefferson, is beautiful, as is Route 16 into Conway. A quick mid-October trip from Boston might take you up Route 3 and then west to Keene on Route 101A to 101, with side stops along the way.
Maine
The northern and western parts of Maine offer the earliest foliage, in late September. Take Interstate 95 all the way up past Bangor and then get on Route 11 and head up toward Fort Kent. This is a long drive, but, if you're interested in September color, there will be incredible views along the way. Once you get north of Millinocket, there are not a lot of places to eat, so it's a good idea to pack plenty of food and water.
A little farther south, Route 4 and Route 17 offer plenty of foliage as you head up toward Rangeley. In Southern Maine, meander your way from Saco northwest toward Bridgton and on to Fryeburg. The Fryeburg Fair takes place the first week of October and the foliage should be quite nice by then.
The carriage roads of Acadia National Park are certainly well known — but also crowded. Go a little farther into Downeast Maine and hop on Route 186 toward Winter Harbor and Prospect Harbor; this is a less traveled byway and offers stunning scenery.
Coastal Route 1 is always a good choice, but here, again, the crowds can be a factor. West of Portland, Route 202 and then Route 5 up to Lake Arrowhead offer great color for the first couple of weeks of October.
Massachusetts
The famous Mohawk Trail — now a part of Routes 2 and 2A — opened in 1914 and crisscrosses five major rivers. Beginning around the first few days of October, you could start as close as Leominster and then follow the route west to North Adams. Lunch in one of the smaller villages, or just pull over with a prepacked snack and sit by one of the rivers. Route 7, which runs north-south through Berkshire County, is another great drive. End in Great Barrington for dinner, or stay overnight before heading home.
Route 20 west from Worcester County to Brimfield is another good drive that offers plenty of stops along the way. For an added bonus, stop at the Norcross Wildlife Sanctuary. There are some great trails to explore in the 8,000 or so acres under preservation.
From about Interstate 495 east to the Route 128 belt, pick any nice day from roughly the second week of October until late in the month and explore the plethora of local farms or lands under conservation. Whether an Audubon property or one of The Trustees' many locations, there are lots of choices to enjoy the fall.
If the Cape and the Islands are in your travels, there's certainly plenty of color in the fall, especially in late October and early November, but the variety of trees is such that it's not as brilliant as other areas of New England. Lots of oaks and fewer maples bring a lot of burgundy to the eye.
If you prefer to stay closer to the city, Mount Auburn Cemetery and the Arnold Arboretum are your best bets for foliage viewing.
Rhode Island
Route 138, which runs east-west across the state, is a great late October drive. Stop at the University of Rhode Island and walk around campus, if that is of interest. From there, take Route 108 south to Point Judith. The town of Wakefield has some nice shops and food establishments to enjoy as well.
A lesser known route for foliage viewing could start in Woonsocket on Route 102 and then head into Chepachet. Or start in Tiverton and work your way southwest via Routes 24 and 114, eventually getting onto Route 138 into Jamestown. In addition to the foliage, the views of the water are stunning. From there, take Route 1 into Westerly, putting you close to Interstate 95 if you are headed back to Boston.
Connecticut
Connecticut has a long foliage season. In the Northwest Hills up toward Litchfield and Torrington, as well as the higher elevations in the northeast, the color will start appearing at the end of September and peak in early October. By early November, places along Long Island Sound are at peak — the last to turn in the region. One early foliage-season drive in the northwest will take you from Winsted to North Canaan into Cornwall, before ending in Torrington.
From Hartford, you could drive over Talcott Mountain and then make your way to Avon, Farmington, and eventually back to Hartford.
Some of the most underappreciated areas of Connecticut are through Putnam, Pomfret, Brooklyn, and Killingly. This so-called Quiet Corner of the state boasts rolling hills, quaint villages, and pastoral landscapes. If you haven't explored this part of New England, it's well worth the time — especially in the fall.
Need weekend plans?
The best things to do around the city, delivered to your inbox.