Weather
Bomb cyclone? Why the weekend snow totals are still hard to accurately predict.
The amount of snow, and the power of the storm, will depend on a few factors, according to forecasters.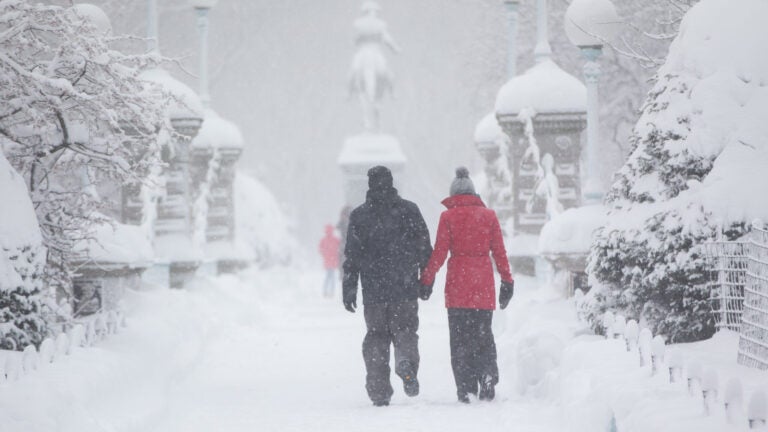 The storm headed to the region late Friday into Saturday could dump anywhere from 3 to 30 inches of snow, according to forecasters.
The uncertainty lies in a few factors, which will become clearer in the next day or so, according to NBC News.
One of those factors lies in the number of storms, there are actually two storms brewing in the region. If they stay separate, that means less snow, according to NBC.
Another factor lies in the path of the storm. If it stays off the coast, that also means less snow for this region, according to WBZ.
Another factor that will influence the severity of the storm, is whether or not it turns into a bomb cyclone.
The term is used to refer to storms that undergo bombogenesis, which happens when a storm develops over warmer than usual water. It intensifies the power of the storm, according to the NOAA.
Bombogenesis occurs when the center of a storm's pressure drops by at least 24 millibars in 24 hours. This storm is forecast to double that, according to NBC News.
The terms "bomb cyclone" and "bombogenesis" were popularized by a 1980 paper by MIT professors Frederick Sanders and John R. Gyakum, who studied "explosive cyclogenesis" (the rapid development of a storm) in the Northern Hemisphere in the 1970s.
According to Sanders and Gyakum's paper, bombogenesis is predominantly a cold-season event and occurs over water. The National Weather Service says it is "solely a meteorological term" and does not describe the effects of the storm.
This type of storm isn't rare. According to a 2002 study, the Northern Hemisphere sees 40 bomb cyclones a year. And NOAA says that 14 of the 20 hurricane-force wind events that occurred in the North Atlantic during the first two months of 2014 underwent bombogenesis.
Newsletter Signup
Stay up to date on all the latest news from Boston.com