Snow
'It's gonna be a big one': Here's what Mayor Wu wants you to know about the incoming storm
A parking ban on main roads takes effect at 9 p.m. Friday.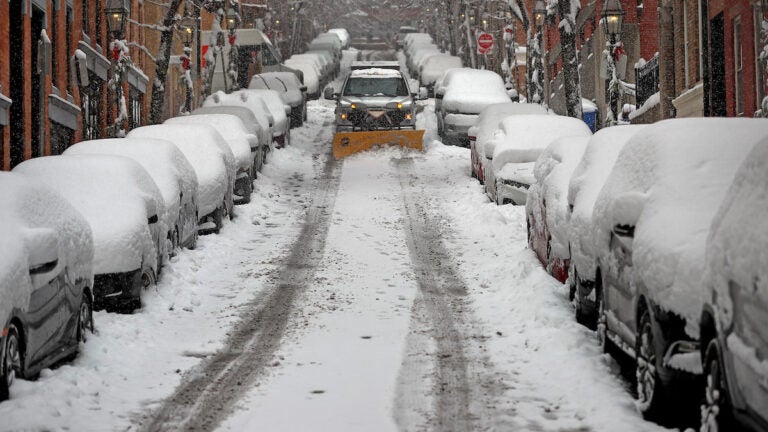 Boston officials have declared a snow emergency slated to take hold at 9 p.m. Friday in advance of a powerful and possibly historic snowstorm anticipated to batter the region beginning early Saturday morning.
"It's gonna be a big one," Mayor Michelle Wu said during a press conference on the city's storm preparedness.
The city could receive as much as 18 to 24 inches of snow with 40- to 50 mile-per-hour winds by the time the storm is forecasted to leave the coast on Sunday morning, Wu said.
Forecasted snowfall accumulation could potentially break the city's record for a single storm: Some forecasts put Boston's total at as high as 28 inches.
Under the snow emergency, a parking ban will take hold. Vehicles must be removed by 9 p.m. Friday from "major roads and main arteries" to allow for snow clearing on the city's streets.
Parking is also not allowed in Boston Public Schools parking lots.
"Boston residents with a resident sticker can find a list of free and discounted garages online, and parking at participating garages will begin at 7 p.m. on Friday," officials said. "Discounted parking starts two hours before we declare a snow emergency, and ends two hours after lifting the emergency."
Vehicles that are not removed from prohibited parking areas will be towed.
Space savers will be honored (with the exception of the South End, where they are banned) until 48 hours after the emergency ends.
Trash and recycling pick-up will continue on a regular schedule Friday and will resume on Monday, while nighttime street sweeping is canceled until further notice, officials said.
Here are other highlights from Friday's press conference:
Streets chief: Please be patient with clean-up, 'this is not a typical storm'
Jascha Franklin-Hodge, the city's chief of streets, tried to set expectations around how quickly crews will be able to clear Boston's streets and bike lanes.
The latest forecasts indicated the storm "looks likely to pack a punch," he said.
"It's a complicated weather pattern and hard for storm forecasters to pin down the details," Franklin-Hodge said. "But the potential is there for historic snow accumulation.
"In combination with high winds and flooding potential, this will be a major, dangerous storm," he continued. "We're preparing for the highest level of response and are confident that our Public Works Department is ready to meet the moment."
The department has 38,000 tons of salt on hand, and can put over 800 pieces of snow and ice clearing equipment on the road – possibly close to 900, if necessary, he said.
With some forecast models predicting a snowfall rate of over 2-4 inches an hour, Franklin-Hodge said he does not expect road crews to be able to keep streets down to "bare pavement" during those intense periods.
"This is not a typical storm," Franklin-Hodge said. "And it won't look like Jan. 7 or some of the other storms we've seen in recent years. This has the potential to be one for the record books and we should not expect everything to be back to normal the minute the snow stops falling."
The chief of streets also reminded residents property owners are responsible for clearing snow from sidewalks. The walkways, under city code, must be 42 inches wide to allow for safe travel for individuals using wheelchairs and other mobility devices.
James Hooley, chief of Boston Emergency Medical Services, said clear paths are important for EMS professionals to be able to quickly access buildings, if needed. He also encouraged residents to keep an eye out for neighbors who might have chronic medical histories.
"I know it's hard to anticipate that, but … remember to keep them in mind, that they may need some assistance on short notice," he said.
Several city leaders on Friday morning repeatedly urged residents to stay home during the storm. But they also advised those who were required to trudge out to plan in advance and take public transit if possible, as travel around the city will face significant delays.
Check carbon monoxide detectors, clear vents, and take other safety precautions
With all the shoveling anticipated this weekend, residents should be sure not to overlook digging out nearby fire hydrants and dryer and heat vents, officials said.
Clearing vents is necessary to ensure carbon monoxide does not back up into homes. Carbon monoxide detectors should be in place and in working condition, public safety leaders advised.
Sheila Dillon, the city's chief of housing, said residents who are facing problems with their heat at home should call 311. The city has contractors "lined up to assist," she said.
"We need everyone to work together," Wu said. "In a major snow event we asked residents, please look out for one another. Check on older neighbors and offer help to those who may not be able to shovel themselves out."
High winds will bring risk of flooding
Due to the timing of the storm, there is a possibility the city could experience some flooding along its coast
"The potential for the high winds to line up with the high tide means that there's a risk of flooding as well," Wu said.
According to Franklin-Hodge, the high-impact storm arrives amid a so-called "King Tide," clearing the path for possible "substantial flooding."
However, officials did not urge residents residing near the water to take specific action on Friday morning, as they are hopeful that Boston may actually avoid heavy flooding, Franklin-Hodge said.
"We've been monitoring the timing … and at this point the trend has been in a positive direction," he said. "So we think the peak water levels that we're likely to see are below our thresholds for some of our more intense flooding preparedness activations, deployable barriers, that sort of thing. But this is something that we're keeping an eye on."
Newsletter Signup
Stay up to date on all the latest news from Boston.com