Snow
Here's what forecasters are saying about Tuesday night's wintry mix
The evening commute could be treacherous due to freezing rain and slippery roads.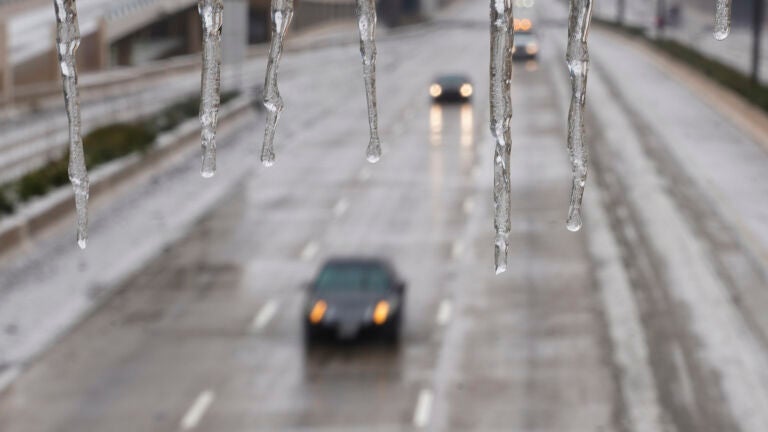 If you're on the roads Tuesday night, drive cautiously as a wintry mix is expected to bring freezing rain, sleet, and snow to the area, creating slick roads.
National Weather Service Boston meteorologist Bill Simpson said the wintry mix should reach the Greater Boston area between 7 p.m. and 8 p.m.
While early commuters might get home before the precipitation affects roadways, later commuters should be cognizant of slippery roads, Simpson said.
"The difference between freezing rain, rain, and sleet — it's on the borderline. So any one of those can happen at any time, and it doesn't take much to make things very slippery," he said.
The storm should peter out by mid-evening in western and central Massachusetts, Simpson said, and last until 10 p.m. or 11 p.m. in the Greater Boston area.
No accumulation of snow is expected anywhere in Massachusetts. At most, Simpson said, grassy surfaces north of I-90 and in central and western Massachusetts could see half an inch of snow.
Areas in eastern Massachusetts south of I-90 should see mostly rain.
The National Weather Service issued a winter weather advisory for most of Massachusetts beginning 4 p.m. Tuesday and ending 2 a.m. Wednesday.
According to the National Weather Service, temperatures in Boston Tuesday night should reach 31 degrees before warming to a high of 46 degrees Wednesday. Wednesday is expected to be sunny.
Here's what local forecasters are saying:
Newsletter Signup
Stay up to date on all the latest news from Boston.com