Tornadoes of Massachusetts Past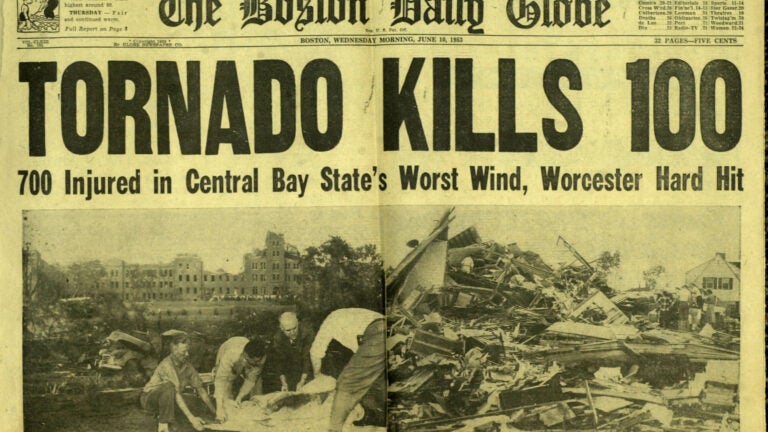 Today's touchdown in Revere aside, tornadoes in the Northeast are relatively rare. Tornadoes with fatalities (so far, no deaths have been reported in today's storm) are rarer still. And tornadoes in Suffolk County are almost non-existent: today's was the first since the National Weather Service began keeping track in 1950.
But they do happen. There have been 162 tornadoes in the state since 1950, according to the NWS. Going further back in time, Massachusetts has the dubious distinction of being the site of the country's first-ever recorded tornado: a twister hit Cambridge on July 8, 1680, killing one, according to the Tornado Project. (Obviously, this doesn't include any of the tornadoes observed by Native Americans in the country before European-recorded history.)
The deadliest tornado in Massachusetts history was in June 9, 1953, when 94 people were killed and 1,288 injured when a tornado hit the Worcester area. Debris was spread as far as Boston and Cape Cod. It was also the state's costliest tornado, with $52.1 million of damage — that's $465.3 million in today's dollars. Up until a few years ago, that was one of the top 10 most expensive tornadoes in the country.
The most recent deadly tornado in the state was on June 1, 2011, when three were killed in Springfield. The city is recovering from the storm to this day. Earlier this year, Springfield officials announced that the city had finally reached a settlement with the Federal Emergency Management Agency for $25 million to help pay for damages incurred by the storm. Two weeks ago, the city announced it was looking for a developer for the site of the Elias Brooking School, which was damaged in the storm. The nearby town of Monson — hit hard, too, but resulting in no deaths — is also still rebuilding.
As for the rest of New England: Connecticut's deadliest tornado was August 9, 1878, in Wallingford, which killed 34 and injured 70. New Hampshire's worst was September 9, 1821, in which six were killed. Tornadoes on July 8, 1890, and August 11, 1954, each killed one person in Maine. Lucky Rhode Island and Vermont have no records of tornadoes that caused fatalities.