Weather
What is a heat dome, and what's it have to do with this heat wave and drought?
Dry and hot weather has been part of a persistent pattern in much of Boston and the surrounding areas for weeks.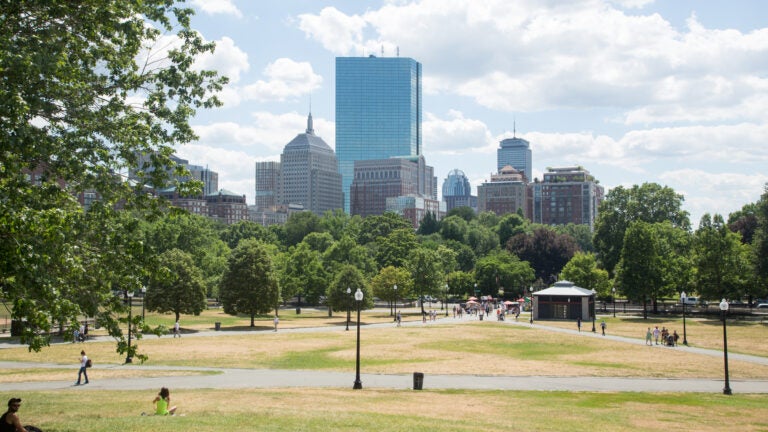 A heat wave is when we experience three or more days in a row of at least 90-degree weather. The longest heat wave in Boston was nine days long, from July 3-11, 1912.
Today will mark the sixth consecutive day that Boston has reached or exceeded 90 degrees.
In all of the talk about heat waves this summer, you may have heard the term "heat dome" several times. While this term is catchy, there's nothing meteorologically significant about it, nor is it anything official that a meteorologist would have learned about in weather school. That said, it does help explain visually why it's been so hot over the past couple of weeks.
The first thing to know is that there are generally two types of pressure systems: highs and lows.
In the low pressure system, the air rises, while in the high pressure one, the air sinks. This is the key to the dry weather and heat.
The image above illustrates how the high pressure system builds heat beneath it. As the air sinks, it warms and becomes trapped under itself. Day after day, the air gets warmer and warmer and becomes more and more difficult to dislodge—as if in a "heat dome." While these types of pressure systems are more common in the center of the country, their effects can spread into New England and the Boston area.
High pressure has been the dominant player in our weather since early June—that's why much of the region is in a prolonged drought.
Sinking air is keeping a cap on the atmosphere and thwarting most showers and thunderstorms from being very productive in their rainfall.
The dry ground is likely also contributing to eroding showers and storms as they move closer to greater Boston. Areas to the south, north, and west have all had more rainfall and therefore have more moisture in the ground, yielding more potential moisture to the air through evaporation. In contrast, around Boston, where we've had one of the driest Junes and one of the driest Julys ever recorded, there isn't much soil moisture; that's likely helping to dry out the storms, as well.
The heat will break this weekend, and there could be a period of showers on Friday to help with the drought. But if high pressure builds in from the north, the rainfall could be shunted out to sea, leaving the parched ground in place a bit longer.
You can follow Dave Epstein on Twitter @growingwisdom.