Weather
Patriots training camp weather starts hot, but may turn wet
More heat is on tap for Thursday, but some much needed rain is on the way.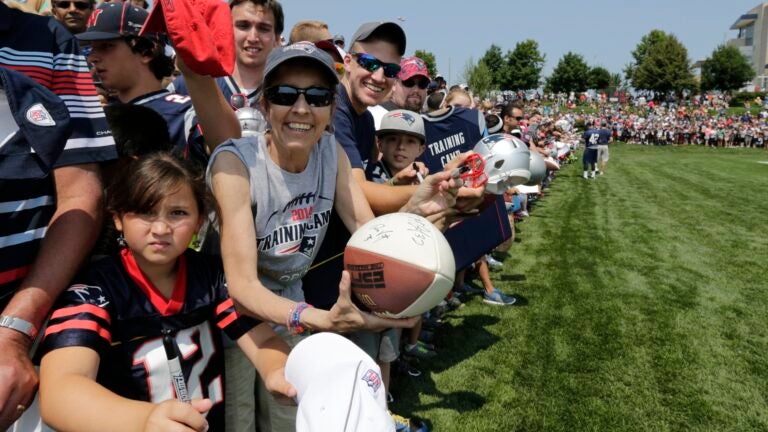 This year, the Patriots are in for one hot training camp.
Temperatures this afternoon are going to be very hot, once again reaching the 90s. In Foxborough, I expect it to hit 90 before noon. If you're in the bleachers during the morning practice session, you'll see readings rise from about 80 to near 90 between 9:15 a.m. and 11:45 a.m.
In the Fan Zone this afternoon, it will be sunny with temperatures in the lower to middle 90s. (Open areas with lots of concrete and asphalt will feel even hotter.) It's going to be especially uncomfortable due to some added humidity. One moral of this story: Sunscreen and lots of water are must-haves today—it's one of the hotter days of the summer!
Friday has the same training camp schedule as Thursday, but it has a very different forecast. First, it's going to become cloudy and very humid.  I think the morning session will be dry; if there are showers, they should be light. Friday afternoon should see showers, though—perhaps even downpours—but the timing of them is still up in the air. Be prepared for torrential rain the deeper into the afternoon you are there. Temperatures will reach the low 80s.
Training camp over the weekend will take place with temperatures in the 70s during the morning and 80s in the afternoon. Friday's rain will be over, but there might be a few showers on Sunday afternoon.
Monday's forecast is questionable. Some models bring another round of showers to much of southern New England, including Foxborough. Because that forecast is more than three days away, it can change quite a bit. There's an evening practice session Monday that could end up taking place under cloudy skies with scattered areas of rain. What I can guarantee is that it won't be as hot–temperatures will be in the upper 60s to mid 70s during the evening.