Weather
Another heat wave begins, but how much hot weather is left this year?
We have at least three days of 90 degree heat this week—and perhaps a fourth on Sunday.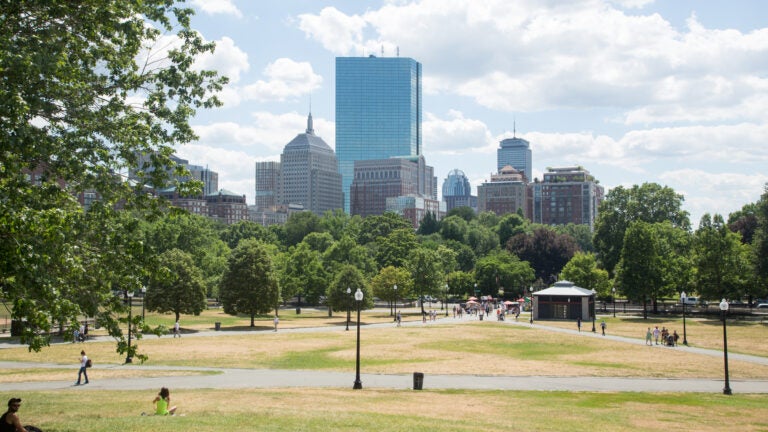 Here comes another heat wave.
Although some rain fell Wednesday, it will quickly evaporate in the upcoming heat. Heat advisories are posted for Boston—and much of eastern Massachusetts—for Thursday, as it will feel over 100 degrees in the afternoon.
Boston has already had 13 days at or above 90 degrees this year, and there are several more on the way. 12 of those days came in July, the most since 2002.
While it's been a hot summer and it's certainly not over yet, I can make some definitive statements about this summer's heat.
In the summer of 1983, also a dry year and a post-El Niño summer, there were 30 days which reached or exceeded 90 in Boston. That record won't be broken. Even if we reach the maximum number of 90 degree days for September, the pattern after the upcoming heat wave won't bring enough to break that record. We would need to have another nine 90 degree days to be ranked as one of the top warmest summers (in terms of 90 degree days).
Reaching this temperature milestone is going to become increasingly difficult after the upcoming heat wave. The reason of course is the loss of daylight and the lower sun angle.
We are rapidly losing daylight at the rate of over 17 minutes a week. This, more than any other factor, will put a cap on reaching 90 degrees with frequency.
September can bring 90 degree days. The most ever was in 1983 (six), but more typically we see a day or two that warm. It's actually quite normal to not even have a day reaching 90 degrees in September. It's never hit 90 in October.
Whether you love the heat or loathe it, you might want to know how many more 90 degree days are ahead. After Saturday, the weather appears to return to normal levels of warmth. Looking further ahead, the period from August 20th to the end of the month shows signs of above-average temperatures. I could assume at least one to three more 90 degree days during this period.
As we start September, the longer-range models are forecasting cooler-than-average weather to take hold. Even if the weather is average, 90 degree days are unlikely in a cool pattern.
After Saturday, it's likely Boston's total 90 degree days for the summer of 2016 will stand at 16, several above average. My best estimate is that, when it's all said and done, the number of 90 degree days will stand at between 17 and 19. For those of you who don't like the heat, it's almost over. And if you do? You better enjoy it, because the hot days are numbered.