Weather
It's official: Boston had a blizzard today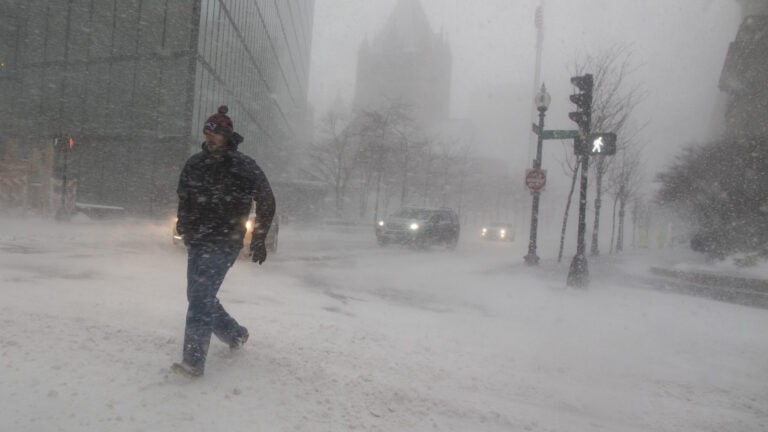 Well, it's official. That was a blizzard.
In spite of the fact that the snow totals won't be monumental, the wind and the heavy snow did combine to make this storm a bonafide blizzard in Boston, as well as several other cities and towns in Massachusetts and Rhode Island.
As of 3:00 PM – Providence, New Bedford, MA, Block Island and Westerly have confirmed Blizzard criteria.

— NWS Boston (@NWSBoston) February 9, 2017
As of 4:00 PM – We can add Boston, Marshfield and Hyannis to the list that has reached Blizzard criteria.

— NWS Boston (@NWSBoston) February 9, 2017
If you are keeping track, this is the first official blizzard in Boston since Jan 27, 2015.

— NWS Boston (@NWSBoston) February 9, 2017
The storm is now winding down, and the snow is ending west of Worcester. The snow will continue to fall heaviest south of Boston through the early evening. I expect the final flakes to fall in the city between 6:30 and 7:30 p.m.
http://giphy.com/gifs/26xBvTV7uMYDMSsFO
As of late Thursday afternoon, the heaviest snow was over southeastern Massachusetts and moving east. Credit: NOAA
Snowfall amounts vary wildly. Thus far, less than six inches of snow has been recorded across the North Shore and parts of the Merrimack Valley, while over a foot has fallen in parts of Worcester County. Most areas will end up with between eight and 15 inches of snow when it's all over.
Coastal flooding wasn't an issue beyond some temporary road closures and minor splash over and beach erosion, and the high tide later this evening shouldn't be an issue.
Winds will continue to be strong this evening before relaxing a bit overnight. Along the coastline, these winds will be strong enough to add to the scattered power outages, especially during the first part of the evening.
On Friday, highs will stay in the teens and lower 20s, with some blowing snow at times. A weaker system will bring some more snow Friday night and Saturday. Right now, that looks to be only a coating to two inches.
A more substantial storm may impact the region Sunday night and Monday. There are many possible outcomes to this storm, from rain to snow, all with potentially very strong winds.