Weather
Rain will keep changing to snow—but most of it won't stick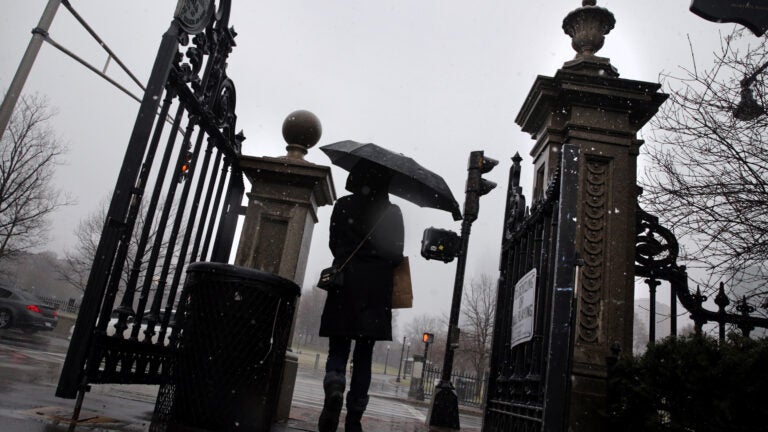 A coastal storm that brought a mixed bag of weather to the region Friday and overnight has now begun to move out to sea. The storm will continue to influence our weather Saturday, however, with periods of rain transitioning over to snow.
Areas east of Interstate 495 will see precipitation last all day into the first couple hours of this evening, especially areas right along the coast, closest to the storm.
Temperatures will continue to run around 34 degrees, just cold enough for wet snow but warm enough to prevent a lot of it sticking to the roads. This time of year, even during a storm, the sun's ultraviolet rays get through the clouds and heat up the darker surfaces, like pavement. This prevents snow from accumulating, except when it's coming down really hard.
https://giphy.com/gifs/3o7btTTrh4VAkbdUMU
Rain will continue to change to snow before ending this evening. Credit: WeatherBell Analytics
There could be anywhere from a coating to two inches of snow accumulating in the Boston area on the grass or perhaps car tops, but less than that on the roads. A few colder and isolated spots could see three inches, but the theme continues to be that this won't be a big storm, just a lot of moisture. The over two inches of water is going to help alleviate the drought quite a bit.
As it all ends this evening, temperatures will slowly fall to just below freezing overnight, and the moisture on the roads and walkways will freeze. Sunday will be a sunny and mild day with plenty of melting, but watch for black ice and slick areas early on.
Opening day at Fenway Park on Monday looks fantastic weatherwise. There will be sunshine, nearly calm winds, and seasonable temperatures around 50.
Another storm, now over Colorado, moves in for Tuesday. Temperatures look warm enough for rain, not snow, and there could be a significant amount of precipitation. Both the morning and evening commutes Tuesday will likely be wet as it appears now.
https://giphy.com/gifs/3o7bu0ZhRcPnLz92zS
Credit: NOAA
You can follow David Epstein on Twitter @growingwisdom.