Weather
It'll be a wild Sunday with wind, cold, snow, and possible power outages
A potent arctic system is headed for New England.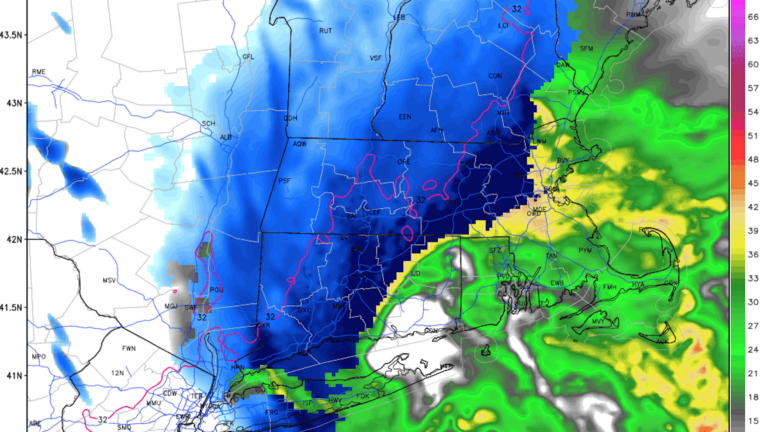 On Sunday, the weather between roughly 4 a.m and 11 a.m is going to be simply wild, and while the snow will be over after that, the wind will continue to howl throughout the day.
Arctic energy will ignite a big storm off the coastline Sunday morning. This storm will move very rapidly and won't slow down. That's a good thing, because if the atmosphere allowed the storm to stall, we'd be looking at a major early April blizzard.
Fear not, although it may look that way for a few hours Sunday morning. It won't last long.
The snow will quickly pile up on colder surfaces such as the grass or your patio. On the roads, which are still warm, less snow will fall. Generally, we are looking at 1-4 inches of snow. Official measurement may be higher than what you see because they are done on a white board, which is cold.
Some areas could exceed 4 inches in thundersnow. It's impossible to say which areas will receive those higher amounts, but most likely it's the Worcester Hills or perhaps the area around the Blue Hills. By the end of the day, there will be melting of the snow in spite of the cold temperatures.
The wind is a bigger factor. Winds will gust over 50 miles per hour at times, and I expect widespread power outages. The high wind warning is posted for not only southern New England but for an area from Baltimore, Maryland, to Gloucester, Massachusetts.
The winds will be strongest through 4 p.m. Winds this strong also will affect air travel. There will be delays and cancellations at many airports from Washington D.C. to Portland, Maine.
More Snow Monday
Sunday night will be very cold with lows in the upper teens to mid 20s, far below average for early April. More snow and cold are in the forecast Monday.
Since the roads will be colder, I expect the snow to stick better on Monday, and there could be enough to plow. Generally we are looking at another 2 to 5 inches of snow.
Cold Air Continues
It continues cold Monday night through Wednesday morning. The record low for Boston on Wednesday morning is 20 degrees set back in 1881. It will be a close call, but you can bet this April 6 will be one of the top 5 coldest on record.
Warmer, But Wet
We return to more seasonable, but wet, weather for the end of the week.
We'll have to watch another weather system for heavy rain at that time, and yes, there could be snow in the mountains.