Weather
More snow coming just in time for Monday's morning commute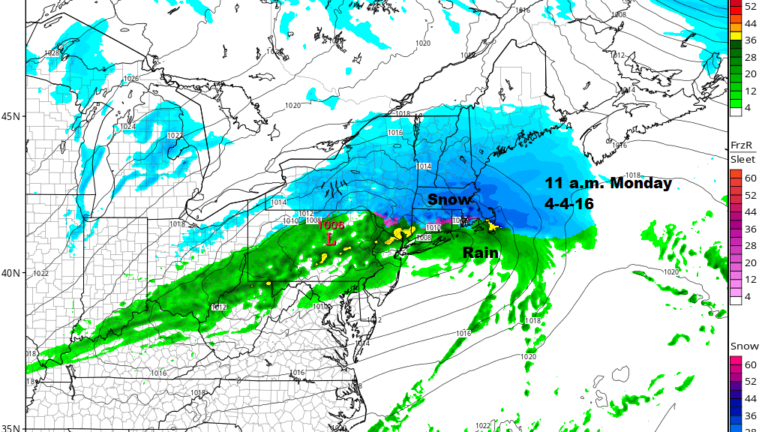 After several hours of heavy snow early Sunday, our forecasting attention is already turning to the next storm coming quickly on its heels. There are several differences with this next system, most notably it will last longer.
I am expecting about 8-11 hours of steady snow, mostly occurring during the daylight hours Monday. While the snow will be falling for a longer period of time, I don't expect more than light to perhaps moderate snowfall. This means most of you will end up with 2-5 inches of snow when it's all over. There may be some spots in the 5-7 inch range, as there are always areas with these systems that fall out of the general totals and into an area of their own.
As we saw on Sunday, the highest numbers for any given location will be on the existing snow, lawns, and decks, with less on the warmer surfaces like roads. Any area that was treated from the recent storm will also likely see some of the snow melt as it falls.
Snow will arrive between 5 and 8 a.m Monday from west to east — and will exit the area around the evening commute. Since much of the snow will fall during the daylight hours, once roads are treated, they may stay bare much of the day. The sun's radiation can penetrate the clouds in April, even on a snowy day.
There will be a rain-snow line with this storm along the south coast. This will cut down snow totals there from a couple of inches to nothing.
Temperatures will range from just below freezing near the New Hampshire border to the upper 30s near the south coast. The snow's texture won't be super light and fluffy nor will it be as heavy and wet as some spring storms can be.
The most amount of precipitation will fall where the snow is heaviest and wettest; therefore, once again, there could be scattered power issues from trees falling on the power lines. These issues won't be as widespread as Sunday as there won't be much wind.
Behind this system, the cold air will be notable for early April. Although there will be a lot of sunshine Tuesday, temperatures won't get out of the 30s. As winds become light and skies remain clear Tuesday night, temperatures will fall rapidly. The record low for Wednesday in Boston is 20 degrees. Not only will the temperature at Logan Airport fall very close to this level, but inland areas will be between 10 and 16 degrees. Some of the trees which have already started leafing out will now lose their leaves and have to make new ones. What started as an early spring may actually become a late one because the cold.
Please follow my forecast on Twitter @growingwisdom.