Weather
Falling temperatures today, with snow in northern New England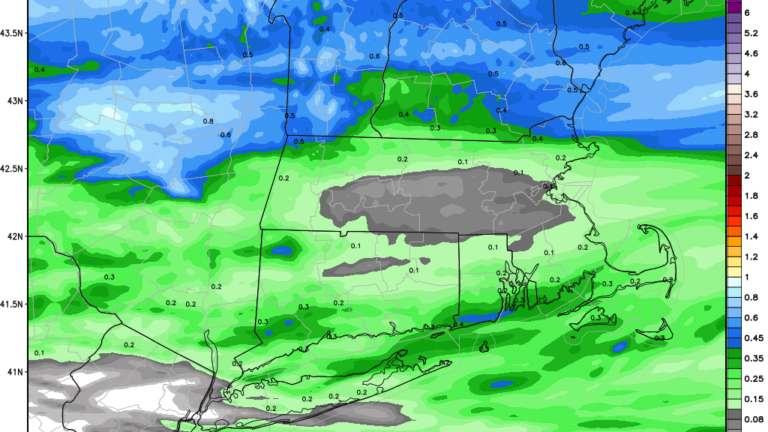 In spite of the sun being mid-summer strong, we can still have early spring cold and even snow this time of year.
There's a frontal boundary to our north with chilly air above it, and mild air below will become the focal point for cold rain Tuesday and some spring snow to the north. This is a one-day show, but some hilly terrain in central and northern New England could end up needing to shovel. It's really difficult to get snow on roadways five days before May begins, so plowing would be exceptional.
Accumulations will be mostly on the grass in areas that do see snow. Although I am not expecting snow in the Boston area, I would not at all be surprised if you saw some wet flakes mix in across the higher terrain of Worcester or Essex County this afternoon.
Temperatures Tuesday are going to feel colder in the afternoon as temperatures fall. If you turned off your heat already, my guess is you'll need to put it back on. I am thinking late day readings in Worcester end up around 39 degrees, and even in Boston it will fall to the lower 40s.
Showers can occur much  of the day, so take your umbrella and be prepared for driving on wet roads.   There will be long periods where it's not raining at all.  We need rain and this won't provide very much.  Agriculturally we are heading into a short-term drought, although longer term the amount of water in the reservoirs is still ok.  This will need to be watched closely.
Add to today's showers and the chill a gusty breeze and you have the makings for a very raw day.
The storm system clears the area overnight and we are left with sunshine and seasonable temperatures the rest of the week and into the weekend.
While it was quite warm a few days ago, I don't see any 70-degree air on the horizon. In order to get some prolonged mild weather, the jet stream needs to retreat into Canada further and stay there for a while.
The outlook for the first week or so of May keeps the bulk of the warm air over the western part of the country with the odds favoring a cooler regime south of New England and fairly seasonable weather here.
Of course, these are averages, and this doesn't mean we couldn't have a warm day or two during this period. But a prolonged stretch of early warmth isn't likely.
Rainfall is expected to be closer to normal the next couple of weeks, which is very important. As we head into the summer pattern later next month and into June, rainfall becomes much more sporadic and less predictable.
Follow Dave Epstein on Twitter @growingwisdom.