Weather
On this day in 1977, the weather was bad. As in, 13-inches-of-snow-in-Worcester bad.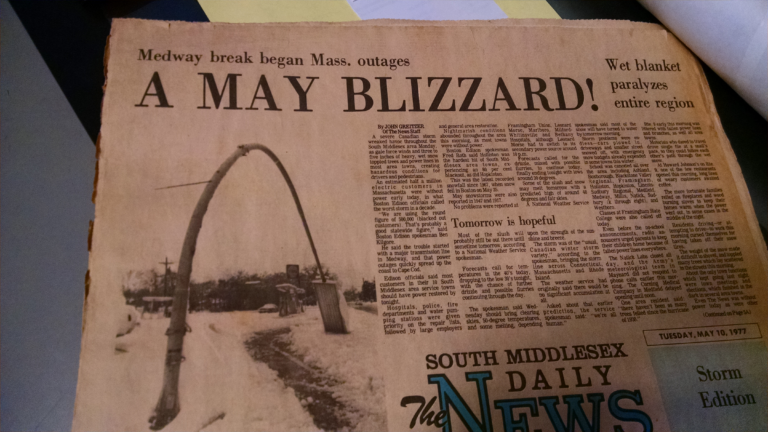 The second week of May is underway, and with temperatures mild, flowers in bloom, and leaves growing on the trees, it's hard to imagine a snowstorm occurring.
Before you go into panic mode, know that I am not forecasting snow today. However, on this very date back in 1977, it snowed. It snowed a lot in some places.
May snow is almost unprecedented. In all the years of record keeping—which, in some cases, go back the 1870s—there are no other May storms which come remotely close to what occurred back in 1977. That event was a once-in-a-200-or-300-year occurrence, something that statistically won't happen again in any of our lifetimes or those of several generations ahead of us.
The sun today is as powerful as it is during late July and early August, so imagine it being able to snow with such an intense solar component to the atmosphere! The setup for the snow that year was a powerful dip in the jet stream. Even in the hottest of summer months, the air at very high altitudes is still cold. In the right (or wrong) situation, the cold air can be pushed vertically down, and with it comes the snow.
The snow in May 1977 was, of course, heavy and wet. Because there were leaves on the trees, tremendous damage was done to those trees and, therefore, there were a lot of power outages. Over 500,000 people in Massachusetts lost power. In Rhode Island, 100,000 were in the dark.
Most of the snow fell overnight on the 9th and continued for a few hours after midnight on the 10th. Snow falling at night allowed it to accumulate more than if it had fallen during the day.
The storm dropped about seven inches of snow in Providence and 12.7 in Worcester. Even Boston had measurable snow occur in the wee hours of May 10, with half an inch recorded at Logan Airport.
The May snow came on the heels of a very cold and harsh winter all across the eastern United States. There were snow flurries as far south as Miami in January of that year, and the Florida citrus crop succumbed to a lot of damage that winter.
While this year's May is off to a cool start, it could be a lot worse.