Sunday could see heavy rain and strong winds
Our warm and dry October is going to end on a cool and stormy note. We have definitely seen a change in the pattern over the past couple of days and although most of this month has been incredibly warm, the last couple of days will be much colder and quite wet.
The reason for the change is that the jet stream has undergone a complete reconfiguration. Instead of a ridge in the eastern part of the country, which tends to bring dry and warm conditions, a trough has formed. Colder and stormier air for us is the result.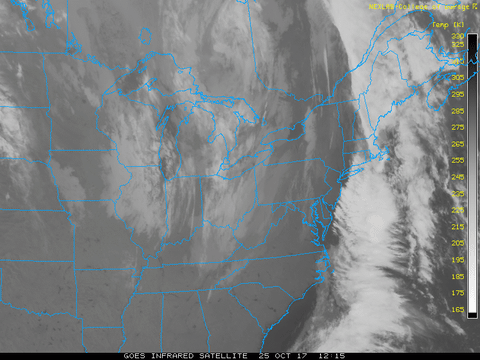 A deep trough was present over the East Coast on Wednesday.
After our shower activity ends Thursday we are going to have a couple of nice days for Friday and Saturday. We'll enjoy plenty of sunshine and seasonably mild temperatures. Those days will be a good time to get out and enjoy the fall season with air that will be what you'd expect in October.
A new storm
Later this weekend the trough that's over us will pull a storm from the deep south up towards the northeast. This storm has some tropical origins and will develop and move really fast. This is the type of situation where if it were winter, I would be saying we have the potential for a lot of snow and wind in a very short period of time.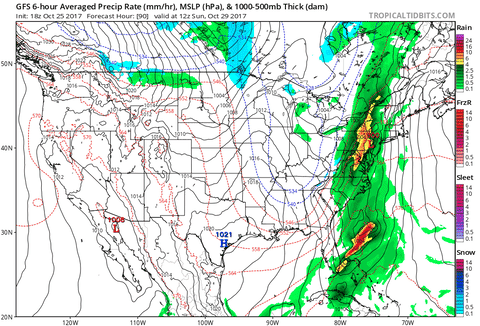 A potent storm will quickly move through New England Sunday evening and early Monday.
This powerful system will bring the chance for a quick hit of heavy rain and a burst of wind. You can see on the loop above the yellow and orange colors, which indicate the precipitation will be quite heavy, with up to several more inches of rain.
The exact timing of the rain and wind is still uncertain, but it appears likely that Sunday night will be quite wet, with the rain lasting into Monday.
Why the wind potential?
Most of us know that the jet stream is at around 30,000 feet. We also know about low-level jet streams. These occur when big temperature contrasts occur closer to the ground, generally at around 5,000 or 6,000 feet. Sometimes these low-level jets (LLJ's) can bring strong winds to the surface.
There's a chance Sunday night and Monday that some of the low-level jets will mix down to the surface, bringing strong winds along with this heavy rain. This is especially likely along the coast and over Cape Cod.
One thing for sure is that as we get into the first week of November, it's going to continue to be seasonably chilly along with the chance for additional storminess. So while we went into actual drought conditions in many parts of the area in October, my hunch is this will be completely wiped away in the coming weeks. If this pattern continues into winter, we'd have a lot of storms and I will be blogging about that next week.