Weather
A blast of Arctic air brings freezing cold to New England
Here's your weekend weather forecast.
An Arctic front is moving through New England and ushering in the coldest air of the season so far. Look out for some light rain or even a snow shower as the front moves through. Northern New England has the best chance of seeing the white stuff.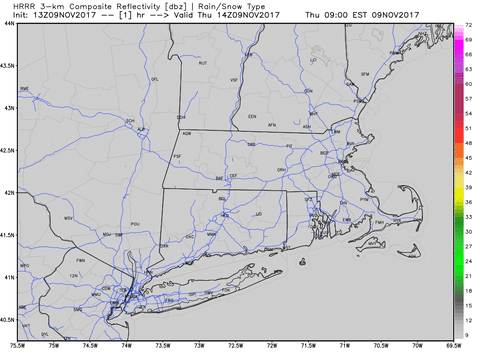 A quick rain shower overnight marks the leading edge of the arctic air. (WeatherBell)
Friday will start mild, then turn cold.
Friday morning will be the mildest part of the day, but temperatures will get chillier the later it gets. Temperatures typically go up during the day, but the Arctic air rushing into the region will negate any warming. Plus, the cold wind will start to force our readings to fall, especially after 2 or 3 p.m. Temperatures will fall below freezing before sunset in many areas.
Gusty winds will be a factor Thursday night and into early Friday afternoon, too. Wind chills will be in the 20s during the first part of the evening and then quickly fall into the teens and single digits a few hours after sunset.
This is definitely very cold for the first part of November, and while I don't expect widespread records to be broken, we will get close. The map below shows the areas that could come in within 2 degrees of a record low for November 11:
Saturday's record low in Boston is 24 degrees, which was set back in 1901. Worcester's record is 14 degrees, set in 1956.
Saturday will be cold but sunny.
Saturday brings a lot of sunshine, and the ground will be frozen on the very top surface. Temperatures will stay below freezing through almost the entire morning, so wear warm gear if you're heading out.
Some of New England's ski areas are opening this weekend, too. Always call ahead before heading out to the slopes this time of year.
Sunday, mercifully, won't be as cold.
Temperatures on Sunday will moderate somewhat, and we'll have a blend of clouds and sunshine. The Boston area will get back into the 40s, while a few spots over Cape Cod could nudge near 50 degrees for a couple of hours in the afternoon.
Early next week, temperatures will be stuck in a seasonably cool range. I'm not anticipating any snowfall, but we are certainly entering the period of the fall when it could happen anytime.