Here's your Thanksgiving week weather forecast
Expect frozen football fields on Thanksgiving Day.
The Thanksgiving travel exodus has already begun. Whether you're in the skies, on the roadways or staying put this year, here's what you need to know about the weather during this holiday week.
Wet Wednesday morning, dry afternoon
Many of us will wake up on Wednesday morning with temperatures in the mid-to-upper 40s. A cold front approaching the area will bring a period of rain for the first few hours of Wednesday, continuing through the morning commute. If you are traveling early on Wednesday, you can expect the rain to taper off as you head west. Notice the rain ends towards sunset in Boston on the loop below.  Also watch as the area of rain from the west pulls up the area from the south.  This is why southeastern areas will see the most rain.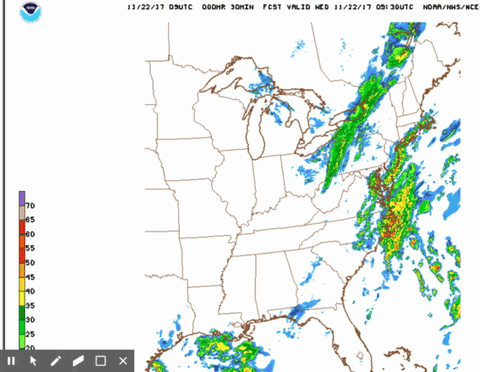 Dry travel across most of the U.S.
The rain here in New England Wednesday morning is actually the exception, not the rule, across the country. The overall weather pattern is quite tranquil and there are only a couple of other areas where there's precipitation in the lower 48. Across the west coast, however, several storms will come ashore and bring precipitation during the Thanksgiving weekend. The rest of the country remains relatively dry and without weather-related travel issues.
A cold Thanksgiving Day
The northeast corner of the country will be the coldest on Thanksgiving Day. When you get up on Thursday, temperatures will generally be below freezing here in New England all the way back through the Great Lakes. Those attending Thursday football games should expect frozen ground and temperatures in the 30s.
Dry weather for shopping and traveling home
Both Friday and Saturday look generally dry with sunshine or partly sunny skies. Temperatures on Friday will be in the 40s across New England. We will see a brief warm-up on Saturday with temperatures getting into the 50s before cooling back down again on Sunday. Saturday will be an ideal day to put up your Christmas tree or other holiday decorations.
Skies will darken early
Not that you need me to remind you, but the sunsets this weekend are very early. In fact, the sun will set earlier on Thanksgiving Day than it will on Christmas Day.  So if you are planning that post-Thanksgiving feast walk, remember the flashlight if you're headed out much later than 4:30 p.m.
Happy Thanksgiving!