Weather
Here's what forecasters are saying about winter in New England this year
Local and national weather experts are delving into what to expect for the 2017-2018 season.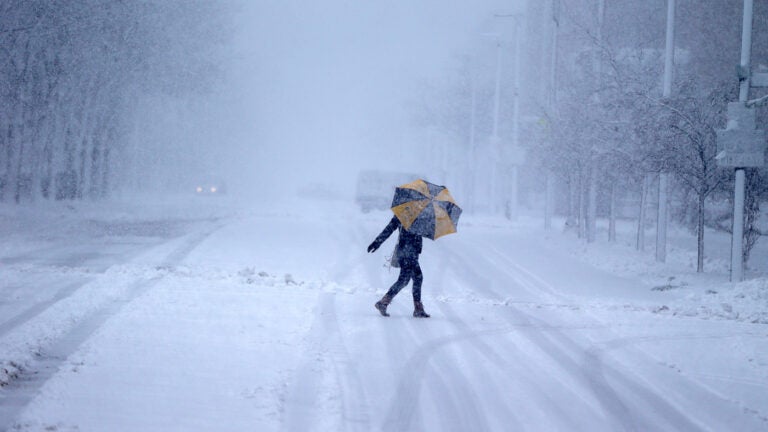 October may have ranked as one of the warmest on record for much of New England, but with temperatures finally dropping this month, winter seems to be officially on its way just in time for the holiday season.
Forecasters nationally and locally are keeping an eye on La Nina, a climate pattern that is creating some uncertainty surrounding exactly how cold it will be and how much snow accumulation the region will experience.
Here are some weather predictions from national and local forecasters for the 2017-2018 winter season.
The Climate Prediction Center of the National Oceanic and Atmospheric Administration is predicting that the East Coast, including New England, will likely see warmer-than-normal temperatures.
In terms of snowfall, the forecast is less clear. New England has an equal chance of seeing above, near, or below normal precipitation, according to NOAA.
"Our models are kind of waffling in that area," Mike Halpert, deputy director of NOAA's Climate Prediction Center, told The Boston Globe.
The weather forecasting company says a chilly winter with an above-normal snow season is ahead for the Northeast.
"Areas in the I-95 corridor will average close to normal, within a few inches," AccuWeather forecaster Paul Pastelok said. "Areas away from the I-95 corridor have a better chance at a big snowfall."
But Boston may not be included in that average corridor. Early snow predictions for Boston are calling for six inches or more above average, according to AccuWeather.
The Farmer's Almanac is also forecasting snowier-than-normal conditions in the Northeast. In terms of temperature, the almanac says that the region will experience more "normal" cold temperatures.
"Of particular note, for those readers rooting for shovels, we are red-flagging the 2018 dates of January 20-23, February 4-7 & 16-19, and March 1-3 & 20-23 along the Atlantic Seaboard for some heavy precipitation," the weather guide said.
Epstein said in his winter forecast that when November is colder than average, which looks like it may be the case this month, the odds of an average or somewhat snowier than average winter increase.
But he said a weak La Nina usually makes things unpredictable.
"A cold November on the heels of a mild September and October increases the odds of a somewhat snowier winter, but confidence is lower than average in this year's forecast," Epstein told Boston.com. "In other words, expect the unexpected."
CBS Boston meteorologist Eric Fisher is forecasting that the winter will be "front-loaded," meaning he expects the biggest cold and snow chances to occur during the first part of the season, with milder temperatures occurring during January and February.  
"If I had to peg a number in Boston, I would go with 40″ this winter (+/- 5″)," he wrote in the station's November forecast. "Around 75″ in the snow belt zones of central and northern Mass, 15-30″ Cape Cod and the South Coast, and a big year across northern New England."
How the winter shapes up, he said, depends on the month of December.
"If we go through December and the snow isn't falling, then I feel like we could really bust with a weak winter," Fisher said. "As long as we start bringing on the snowflakes as expected, we should be able to do fine before a mid to late season thaw."
Fisher's colleague, Barry Burbank, is forecasting a "challenging winter" for the region and between 45 and 55 inches of snow in Boston for the season.
The forecasting team for both Boston stations is predicting overall warmer-than-average temperatures for New England this winter, with some bursts of intense cold at times. The meteorologists are also forecasting the "ingredients will be in place" for a blizzard or two with the potential clashes in temperature, raising the possibility that the region will see more precipitation than normal for the season.
"With global warming pulling the strings, no three months are the same and no theme seems to resonate for the entire season," meteorologist Pete Bouchard said. "We'll see our fair share of snow — likely running above normal thanks to jacked up storms — but we'll have our outrageous thaws and at least one or two numbing blasts of arctic air."
His colleague, Tim Kelley, said he's expecting New England to experience "an extreme winter" and says area residents should also be prepared for at least a serious ice storm or two.