Weather
Thursday's frigid cold beat a nearly century-old record
The record, set in 1924, was a lowest high temperature of 18 degrees.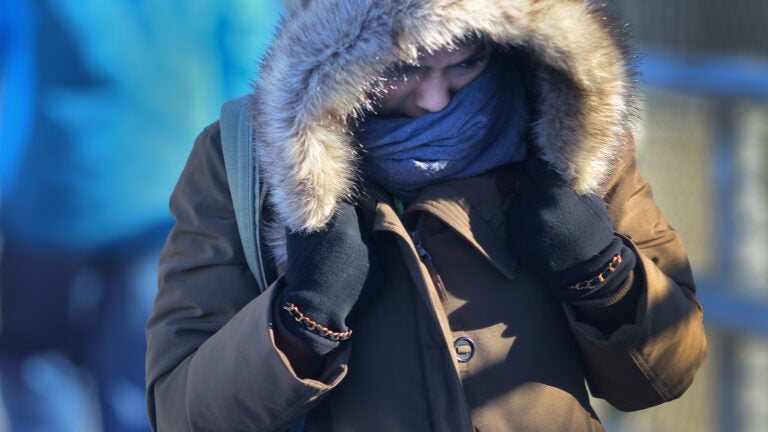 Boston has broken a nearly 100-year-old record for lowest high temperature on Dec. 28, according to the National Weather Service in Taunton.
The record, set in 1924, was 18 degrees. Thursday's lowest high temperature was 12 degrees — 6 degrees lower than the previous record, said Lenore Correia, meteorologist with the National Weather Service in Taunton.
"We're not really surprised that it happened," she said.
Forecasters had been warning locals all week that Thursday had the potential to be a record-breaking cold day. The temperature is expected to drop to 2 degrees on Thursday night, with a wind chill of -12, Correia said.
Though temperatures will be be below normal for the rest of the week, she said she does not expect Boston to break any more weather records.
Friday brings a continuation of the bitter cold, with afternoon highs only in the 10 to 20 degree range. pic.twitter.com/ypL3AZLUJl

— NWS Boston (@NWSBoston) December 28, 2017
On New Year's Eve, the temperature in Boston is expected be in the low teens and the wind chill is expected to be -5, Correia said. Temperatures could drop as low as 1 degree.
"So it will be pretty bad," said Correia, who advised that people bundle up if they're heading out for festivities.
Having a difficult time picking out an outfit today? This should help! (Keep in mind wind chills are below 0°F so we'd go with the "extreme cold" option here…) pic.twitter.com/SPA13P20Up

— NWS Boston (@NWSBoston) December 28, 2017
Mayor Marty Walsh's office distributed cold weather safety information and urged residents to dress in layers, which includes wearing a hat, mittens over gloves, and a scarf over your mouth to protect your lungs, according to a statement. Parents should limit the amount of time children play outside and the amount of time infants are exposed to the elements when it's colder than 40 degrees.
Signs of frostbite, according to the mayor's office, include loss of feeling and a white or pale appearance in one's fingers, toes, ear lobes, and the tip of the nose. If residents feel they have frostbite symptoms, they should seek medical help immediately, officials said.
Walsh's office asks that residents check on vulnerable neighbors as well and call 911 if they encounter a homeless or other individual outside who appears immobile, disoriented, or is not dressed properly for the cold.
Forecasters expect temperatures to start creeping back up around the middle of next week.
Material from the Associated Press was used in this report.