Weather
How to avoid cold-weather illnesses and injuries, according to a local ER doctor
"It's just not worth the risk."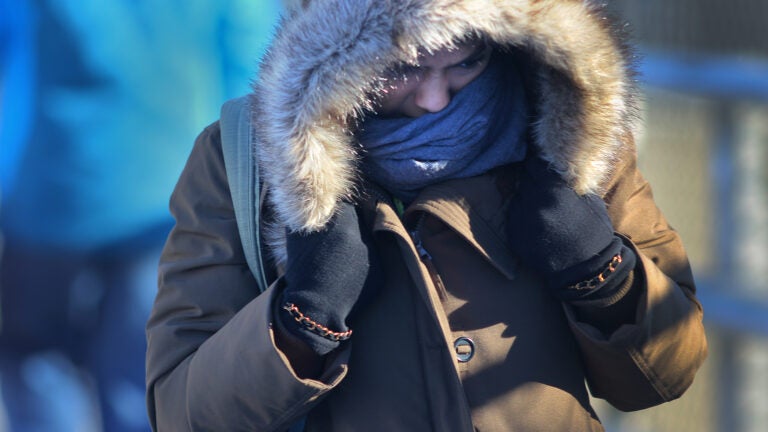 In case you haven't heard, it's cold outside. And while some New Englanders may dismiss cold weather warnings with the wave of a hand (and with an iced coffee in their other hand), weather this frigid can carry serious risks.
Dr. Bryan Canterbury, an emergency medical physician at Newton-Wellesley Hospital, said that there is a significant uptick in the number of cold-related conditions he sees in emergency rooms when temperatures stay in the single digits.
"Typically when it gets into the single digits and below is when I tell people to really limit what you're doing outside," Canterbury said. "I know there's people who want to get their 10-mile run in training for the Boston Marathon and people who bike to work every day, but it's just not worth the risk."
Here are some recommendations for New Englanders when temperatures drop.
If you go outside, wear layers
Canterbury said that by following a checklist of preventative measures — "don't go outside if you don't have to, wear waterproof layers if you do have to, and limit exposed skin as much as possible" — you can help minimize your risk.
Boston Emergency Medical Services tweeted out this helpful graphic regarding layering.
Bitterly cold start to the day – limit your time outside and reduce your skins exposure to the cold. pic.twitter.com/BkYiqeNvRL

— Boston EMS (@BOSTON_EMS) December 27, 2017
The City of Boston added its own cold weather recommendations on its website.
"When it's cold outside, wear several layers of loose-fitting, lightweight, warm clothing rather than one layer of heavy clothing," the city wrote. "Make sure your outer layer is tightly woven and windproof. Remember to wear clothing like sweaters, boots, hats, gloves, and scarves. Wool clothing keeps you warmer than cotton when it's damp or wet."
Know the signs of frostbite
One of the biggest medical concerns in cold weather is frostbite. Canterbury said that even if you follow the checklist of preventative measures mentioned above, frostbite can still occur in cold weather conditions like this. 
"The earliest sign of frostbite is cold, exposed skin," Canterbury said. "That's usually followed by pain or a loss of feeling in the exposed skin."
Frostbite can also cause the skin to appear white or pale, according to the City of Boston's website.
Canterbury said that the best thing you can do if you're concerned that you're experiencing any of these symptoms is to get inside and warm up immediately. And once you've done so, don't go back to shoveling.
"The skin can easily re-freeze," Canterbury said.
If your symptoms are severe — white or pale skin, lost sensation, blisters — you should seek medical attention, according to the Mayo Clinic.
Learn the signs of hypothermia, as well
Hypothermia is another major concern during cold weather. According to the Mayo Clinic, hypothermia occurs when "your body loses heat faster than it can produce heat, causing a dangerously low body temperature." Left untreated, hypothermia can cause failure of the heart or respiratory system, and even death.
A few of the symptoms of hypothermia include shivering, slurred speech, lack of coordination, weak pulse, and confusion or memory loss, according to the Mayo Clinic, which also noted that because symptoms tend to begin gradually, and can include confusion, "someone with hypothermia usually isn't aware of his or her condition."
The Mayo Clinic wrote on its website that the first thing to do if you suspect someone has hypothermia is to call 911, and that, if possible, you should gently try to move someone inside and replace any cold, wet clothing with warm, dry replacements while waiting for emergency services. "Gently" is the key word, because according to the Mayo Clinic, "jarring movements can trigger dangerous irregular heartbeats."
Be extra cautious while shoveling and using a snowblower
Canterbury said that, as an ER doctor, he often sees cold-weather injuries. 
He examines people who slip and fall on ice, resulting in sprained ankles, wrists, and the like, as well as patients who overexert themselves.
"People who haven't shoveled all year and go out to shovel the whole driveway can easily hurt themselves," he said.
Then there are the gruesome trauma injuries, the ones "where someone loses a finger sticking their hand in a snowblower," he said. "I could send you some really gruesome pictures."
Stay hydrated
You might think of dehydration as a summer condition, but it can also happen in the winter.
"You can lose a lot of moisture in the cold without realizing it," Canterbury said, "as breathing in cold, dry air causes the body to lose a lot of fluid."
Make sure you're taking in enough water, even if you don't think you need it.
Watch the young ones
Canterbury said that one of the most important things to look out for is cold exposure in young children. Even if it seems like they're doing fine and enjoying themselves, it's important for kids to have regular indoor breaks to warm up.
"Keep an eye on kids when they're outside," Canterbury said. "They're often having fun, excited by the snow, and don't notice right away when they're getting cold. Kids lose body heat faster than adults, so it's important to monitor them."