Weather
David Epstein: 'Today is the calm before the storm'
Thursday will likely bring 8 to 12 inches of snow to the Boston area in a short period of time.
Read David Epstein's most recent forecast at Boston.com/weather.
How about some good weather news?
There is milder air coming next week. Temperatures will approach 40 degrees on Tuesday. Keep that in mind as you read the rest of this forecast.

Today is the calm before the storm — and there's definitely been a lot of talk about this storm. It will gain strength rapidly, but it's the wind and risk of power outages and not the snow, per se, that will likely have the most impact on the area.
As a storm intensifies, the wind is nature's way of trying to balance the lowering pressure of the storm. The stronger the storm, the more wind. The amount of snow in the forecast isn't unusual, nor will it be anything we can't handle, but the cold air outside without heat inside creates a different danger that we don't see very much. I think that's why this storm is getting so much attention.
All of the computer models are consistent in developing a major coastal low-pressure area late tonight and in moving it toward the Canadian Maritimes late Thursday and early Friday. This track will bring a combination of wind and snow to New England. Cape Cod will get both rain and snow.
While this will become a significant snowstorm, the full fury of the low-pressure area will likely remain out at sea.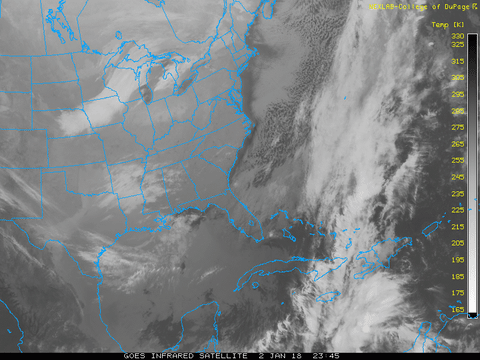 My forecast is based on a track that will keep the system well east of Cape Cod. A significant change in this track would affect all elements of this storm, from wind speeds to the rain-snow line to, of course, total accumulation.
There won't be any snow until the early morning hours of Thursday. Then it will continue throughout the day. The core of the storm will be around noon, with most of the snow hitting the ground by the time the sun sets. It will be a good idea to try to clean this up as soon as it stops because temperatures won't be as cold as they're going to get Friday. Any slush will freeze into a rock-solid mess by Friday morning.
Power outages
The biggest concern from the storm is for power outages, especially on Cape Cod. It's never fun to lose power, but with the impending cold due after the storm, a loss of power will create a dangerous situation for those without heat. It wouldn't take very long for a home without electricity for heat to become cold enough for pipes to freeze and burst. Shutting off the main water valve to the house is the best way to limit damage if this occurs.
Another aspect of the storm will be the high tides that accompany it, though I am not expecting major coastal damage with this particular storm. The storm is moving rather quickly, and although tides are astronomically high, the winds will be mainly from the north-northeast, and we won't be looking at multiple high tide cycles with a strong onshore wind.
That said, there could be some minor or moderate coastal flooding, as well as some damage to structures along the coastline. There's a lot of ice floating around, and that ice will be moving toward the shore and can cause damage.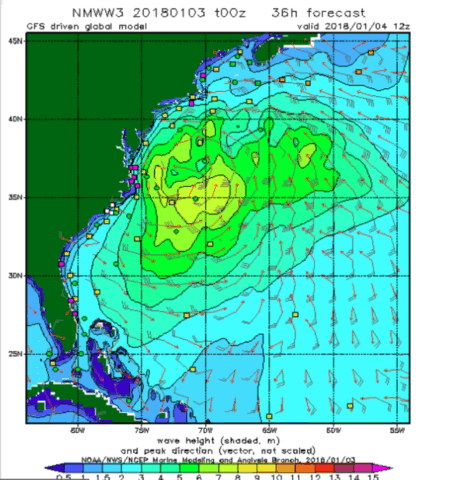 An area of rough seas and high winds will accompany the storm.
How much snow?
Coastal flooding and power outages won't affect a large number of people, but the snow will. Generally, this is a storm that will provide 8 to 12 inches of snow in the Boston area. There may be some pockets of higher amounts southwest of the city and also up across parts of Cape Ann.
Again, with the storm still a day away, the track could shift. That would ultimately raise or lower the snowfall amounts in your area.
According to the data we received throughout the day Wednesday, there's been a notable trend in the position of something called the coastal front for Thursday morning. This front divides marine ocean air from colder air to the west and north. Often this front marks the rain-snow line. As this front gets near Boston Thursday, the snow will become wetter for a time. This could increase the risk for power outages from heavy and wetter snow.    
If this front moves inland a few miles, the snow would change to rain for a short period of time before going back to snow. While I don't expect this to happen in Boston, it's not a sure bet that it won't, and it will be something to watch for Thursday during the first part of the storm.
Sometimes this front can straddle the outer tip of Cape Ann; it can be raining there, but snowing a few miles inland. These are the nuances of storms that make them tough to predict, but that can influence the ultimate snow totals.
This storm will pull in another Arctic air mass for Friday, Saturday, and early Sunday. Temperatures will likely set at least some records during this time for either the coldest high temperatures or perhaps even a record low temperature Sunday morning. In Boston, the record for Jan. 7 is 2 degrees below zero, set back in 1896. With the current forecast of 5, 6, or 7 degrees below zero, that record is likely to fall.
There is some milder air forecast next week for a couple of days, but I see more Arctic air coming in after that.
One more piece of good news: We start gaining a minute of daylight on Friday, and that gain increases to two minutes by the 23rd of this month.
Follow Dave Epstein on Twitter @growingwisdom.