Weather
Here's David Epstein's latest forecast on today's storm
"The big reason why this particular storm has gotten so much attention is because of its rapid development."
With the nor'easter now upon us, let's look at the key factors — wind, snow, flooding, cold — that could contribute to how this storm will play out throughout New England, and how serious an event it could turn out to be.
We'll start with the latest water vapor loop, which gives a good picture of the storm overall as it bears down on southern New England. Even an untrained eye can see the swirl in the atmosphere off the Mid-Atlantic coast and notice it's getting more intense as the morning goes on.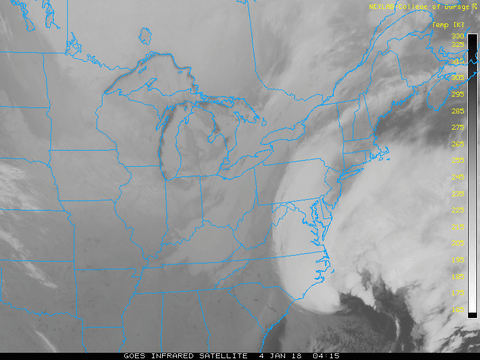 Wind and flooding
The big reason why this particular storm has gotten so much attention is because of its rapid development. When storms develop this fast, they create a lot of wind. And it's the wind that will be the hallmark of this storm. Wind gusts can lead to power outages. If you lose power and it's not restored relatively quickly, those single digit temperatures expected to start late tonight and stretch through Saturday can make for a dangerous situation.
The cold air has also created a lot of ice in the bays and inlets around the region. Combine that with the strong winds and high tides during the middle of today, and that could move the ice forcefully enough to cause some structural damage to things like boathouses and docks.
Today's high tide around 1 to 2 p.m. is also expected to bring minor to perhaps moderate coastal flooding. However, this isn't going to be a storm with extreme coastal damage. For one thing, it's just moving too quickly and won't be around long enough to produce days of an onshore flow. There will certainly be flooded coastal roads and basements, but that's fairly typical for a nor'easter of this size.
Heavy snow
The other major aspect of the storm is, of course, the snow. This will affect all of us. But looking in the context of other snowstorms that have hit the area in recent years, this is not going to be one of monumental accumulation.
That said, when you receive a foot of snow in a relatively short period of time, it creates travel trouble. Some localized areas in heavier bands may approach a foot and a half.
Most if not all schools are closed today, and many of you are likely reading this while home from work due to the storm. The heaviest snow will fall from mid-morning until just after sunset and then wind down through the evening.
The map below shows that the snow will be almost done by 10 p.m. This is a model-based radar loop, but I think it gives a good idea of when we can expect the back edge to be nearing Boston.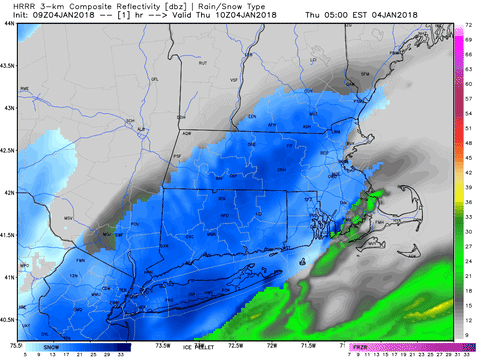 The snow will be light in texture and fairly easy to move around. The exception to this will be south of Boston, especially down toward the Cape, where the snow will be heavy and wet and in some places may include sustained heavy rain. You can expect a flash freeze in these areas, so you'll want to move whatever snow does fall quickly as temperatures tumble.
There are of course blizzard warnings up along the coastline, which means visibility today will be a serious issue — it could be reduced to under a quarter of a mile for three hours or more. That will undoubtedly make travel particularly difficult. The most likely timing of the blizzard conditions will be from late morning into the early afternoon.
What's up with the big words?
There's been lots of terminology used to describe this storm, most notably words like bomb cyclone and bombogenesis. The first term is something that has been created by taking the word "bomb" out of "bombogenesis" and adding the word "cyclone," which is simply a another name for a low-pressure system. Bombogenesis is the term used to describe a storm that intensifies atmospherically at the rate of 1 millibar per hour for 24 hours. Today's storm will double that rate, making it a strong storm in a short period of time. But the terms shouldn't create fear of something that's somehow very different than other strong nor'easters and their associated hazards.
Cold again
As we've said, don't expect the problems to end when the snow stops. As this nor'easter heads up into eastern Canada, it will pull down another shot of arctic air, with temperatures in the lower teens on Friday and single digits on Saturday. Both Saturday and Sunday morning will see temperatures below zero in much of the region.
The winds too are going to continue through Saturday, but should be lighter by Sunday when temperatures reach the teens. The next storm on Tuesday looks to be rain or a mixed bag of rain and snow, but not a major event at all.
Follow Dave Epstein on Twitter @growingwisdom.