David Epstein: What to expect from the coming one-two punch of snow melt and rain
Some computer projections show nearly all the snow disappearing in Greater Boston by midday Saturday.
Here comes the thaw — and it's going to be dramatic!
As high pressure slips offshore Thursday, a southerly flow of very moist and mild air will move over New England. The combination of the high temperatures and rainfall is going to erode a lot of snow cover in a short time. Some computer projections show nearly all the snow disappearing in greater Boston by midday Saturday. There's almost no doubt we're going to have some street and basement flooding. And there could be isolated stream and small-river flooding created by ice jams.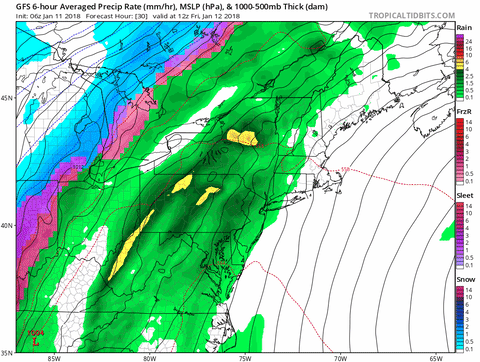 Friday's rainfall is still in the midwest Thursday morning. (COD Weather)
A mild and dry Thursday
Thursday will be cloudy and mild, and you may even get a peek of sunshine. The rain is going will hold off until Friday, with the bulk of it coming in two waves, on Friday evening and then Saturday morning.
The first wave could produce an inch or so of rain. Travel Friday evening will be slow, and thick fog could exacerbate the situation. The fog could become so thick that it may affect air travel.
As the rain falls Friday evening, temperatures will remain in the 50s. You can see this slug of warm air clearly on the temperature map. Notice the colder air behind it — that's arriving Saturday.
More rain early Saturday
The rain takes a break late Friday evening, but more will be on the way. A second wave of low pressure could bring another inch of rain, for a total of one to three inches, with some places reaching four. The highest totals are ikely over southeastern Massachusetts.
Flooding potential
The combination of rain and melting snow has led to flood watches. This isn't going to be a major flooding event, but some streets could become impassable for a short period of time.
Of course if your basement ends up with water in it, that is major for you. As many have been suggesting all week, give your sump pumps a quick check before Friday.
On Saturday, after the morning rain, cold air will come rushing back for the afternoon. In these situations, there can always be precipitation falling that end up freezing and causing slick driving. Even if there isn't any precipitation, any standing water will freeze solid later on Saturday.
If you're headed to northern New England, be aware of a rapidly changing situation Saturday. The rain will change to freezing rain or sleet and there will be more of it. Notice the pink and blue areas in the animation below — that's snow and sleet for ski country Saturday.
Rain and mixed precipitation are in the forecast for New England through Saturday. (Tropical Tidbits)
Dry and cold
Sunday becomes drier and cold and that will last into Monday. The air next week has some arctic influence, but won't bring the bitter cold we had last week. We're watching the potential for some snow early next week around Tuesday or Wednesday.