David Epstein: It's going to snow this week — likely twice
It's going to snow this week, likely twice. While totals will differ depending on where you are, most of the state will see a bit of snow — many will see significantly more — between now and late Wednesday.
The first snow comes today.
A winter weather advisory is active Monday for south of Boston, with the possibility for up to a few inches during the day. It's courtesy of a northeasterly wind off the water. The wind picks up moisture from the ocean and turns it into snow showers along the coast. The snow will wind down Monday evening, leaving us with cloudy skies.
These situations are really quite difficult to predict. You can get a very localized area with a few inches of snow, while several miles away nothing falls.
Monday evening and Tuesday, we'll be in between systems. Think of it as the calm before the storm. The weather won't totally clear out: Skies will remain cloudy and overcast, and you probably won't see the sun. There could be some minor snow showers.
The satellite loop below shows a new area of clouds heading east. These clouds are associated with energy in the atmosphere that will spawn a storm for Tuesday and Tuesday night.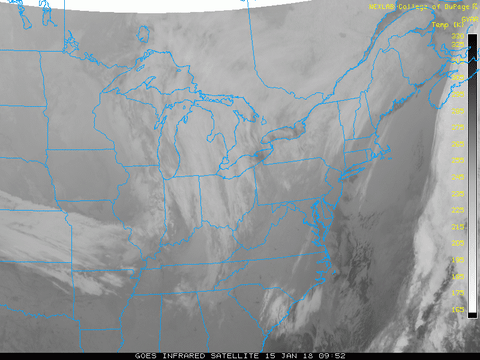 Tuesday night and Wednesday, that system will move from the west off the Mid-Atlantic coast and toward New England. The final track of the storm determines where the rain-snow line is, as well as just how much snow we'll get.
I expect the snow to break out after midnight Tuesday and continue into the first half of Wednesday. The best chance to see more than 6 inches will be north and west of Interstate 495. The map below has Boston in the 2- to 5-inch range. I'll have a better idea of the specifics Tuesday. Since temperatures will be warmer south of Boston, anything that falls there will be on the wetter side.
The storm will affect the Wednesday morning commute, and we could also see school cancellations.
Travel on the highways will also be slow, but because of relatively warm temperatures many roads should end up wet and slushy.
Thursday and Friday will be bright, beautiful days and should be good for skiing or other outdoor activities. A second thaw will start over the weekend, with temperatures getting into the 40s. Temperatures for the Patriots game Sunday will be well above average, in the upper 40s to near 50 with dry conditions.