Weather
What will the weather be like in Boston this April?
David Epstein looks ahead at the typically showery month.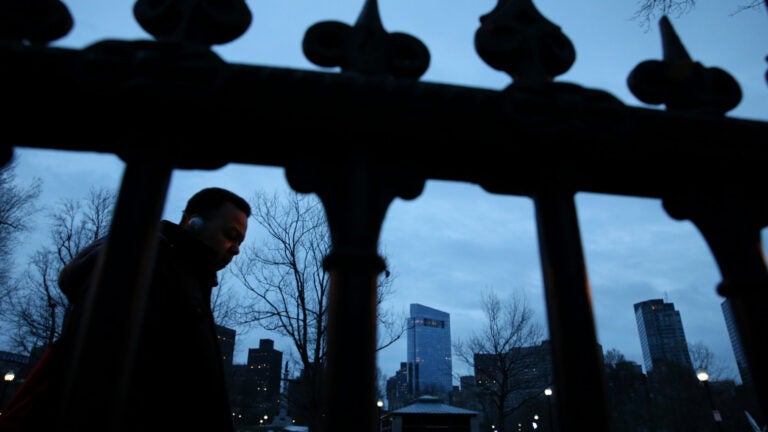 So far this year we've had a very warm February and a March that will end up colder and snowier compared to averages for Boston. So what can we expect from April, the month known for its showers that bring May flowers?
Typically, April is a rather showery month, with alternating warm and cool periods. This year, April is looking to be chilly to start, but warmer days are likely looming toward the second half of the month. On average, afternoon temperatures are near 50 at the start of April and near 60 at the end. Like any month, April's patterns are driven by the position of the jet stream. If it ends up taking a more southern track, we will continue to get cold air from Canada deeper into the spring.
Of course April can still bring snow. We need only look back to 2016, when over 6 inches fell in Boston. The most snow ever seen in April was in 1997, when 22 inches fell during the April Fools' storm. Between 2004 and 2015, not even an inch of snow fell during April in Boston. When we do see snow in April, it tends to be in years like this year, when winter seems to hang on.
The European model does show some snow over the next 10 days, albeit in limited amounts. These model forecasts are not super accurate in the long range, but they do give us the idea that if the model is seeing some accumulation of snow, it must mean that it's at least going to be cold enough for snow. I find the models are better at predicting temperature patterns than if we get an inch or two of snow in April.
If April does end up cooler than average, that doesn't mean there won't be any warm weather. Temperatures in April over the past several years have generally reached into the 70s and 80s. We've even seen 90-degree readings as recently as 2009 and 2010.
The animation below is a forecast showing where it is going to be cooler-than-average versus warmer-than-average into the second week of April. What you'll notice is the cooler blue areas interspersed with some warmer colors. A typical April brings some chilly weather, but also days where you might think you want to go to the beach.
https://giphy.com/gifs/xAF5pcWbfSIcZ18tgM
Inland areas are likely to have frosts throughout the month, but in Boston it's not impossible that below-freezing days will come to an end soon. Over the past two decades, the number of Aprils when the temperature didn't go below freezing has increased, and it's becoming quite rare to see readings in the 20s.
And over the past 50 years, the month of April, like other months, has continued to slowly grow warmer. But these warmer-than-average months don't mean we can't see cold and snowy weather, and this April may prove that to be true, especially early on.