Weather
How Tropical Storm Chris could affect Massachusetts
"They may not see it, but we would advise that beach-goers heed the lifeguards' warnings."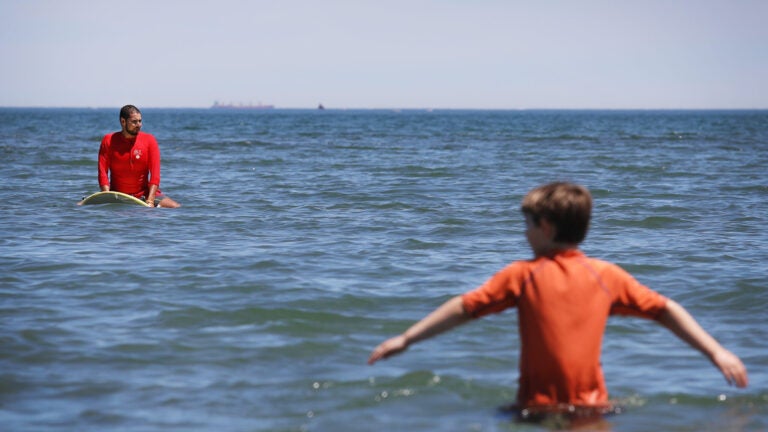 Forecasters are warning beach-goers to be cautious in the ocean as the region looks ahead to another week of hot, sunny weather.
Tropical Storm Chris, which is expected to become a hurricane Tuesday, will likely remain offshore, but the storm could still bring high surf and an increased risk of rip tides to the Massachusetts coastline, according to National Weather Service meteorologist Kim Buttrick.
"It can be a silent killer," Buttrick said of the potential for dangerous undertows, which are often undetectable on the surface. "Even seasoned swimmers can be caught off-guard."
The state's ocean-facing beaches, such as the South Coast, Outer Cape, and the islands, could see the greatest effects.
As of late Monday morning, Buttrick said Chris was 250 miles southeast of Cape Hatteras, North Carolina, with sustained winds of 60 miles per hour.
"As Chris is sitting stationary and spiraling, it's churning up the ocean," Buttrick said. "And that can translate north toward southern New England."
[5 AM Tropical Storm Chris Update] Tropical Storm Chris is still expected to become a hurricane later today or tonight, but pass well southeast of #SNE Wed into Thu. Only impact expected to be high surf and dangerous rip currents given the offshore track. pic.twitter.com/UhGtvub8xS

— NWS Boston (@NWSBoston) July 9, 2018
The storm is expected to begin moving northeast late Tuesday and pass well southeast of New England on Wednesday and Thursday.
On those days, temperatures are expected to be in the 70s along the coast, with 80s further inland, according to the weather service. There's a low risk of rain on the far-southeast New England coast, but the weather is expected to be mostly dry and comfortable.
With a new moon this Friday, the storm's pass coincides with a period of already astronomical high tides, meaning even higher wave action at the beach, Buttrick said. The highest risk of perilous undertows also occurs between the high and low tides.
"They may not see it, but we would advise that beach-goers heed the lifeguards' warnings," she said.