Friday is a beautiful summer day, but then humidity, clouds, and showers arrive
Here's David Epstein's weekend weather forecast.
After several days of very nice weather, things will go downhill this weekend. Before the humidity, clouds, and showers arrive, we still have one more beautiful day on tap, so get out there and enjoy it.
Friday is a perfect summer day.
On Friday, you can expect plenty of sunshine all day with temperatures reaching the 80s, along with low levels of humidity. As high pressure slips offshore Friday night, it will allow a more southerly flow of air to take hold.
At first, this just means some clouds arrive for Saturday, but eventually showers and tropical downpours will become the dominant weather feature.
Saturday brings a change.
The upper-level pattern is about to undergo a significant change. A Bermuda high will become very strong in the Atlantic and prevent the dry air in Canada from reaching us for the first part of August.
This change will be evident Saturday as the sunshine fades and the humidity increases. If you want to head to the beach, the sunniest part of the day will be before noon.
Sunday will be humid.
On Sunday, a vigorous area of low pressure will move west of the Boston area with some tropical downpours and gusty wind. It will be very humid. While it won't be a great day for outdoor activities, I don't expect it to rain all day. The highest risk of showers is in the morning, with some breaks of afternoon sunshine.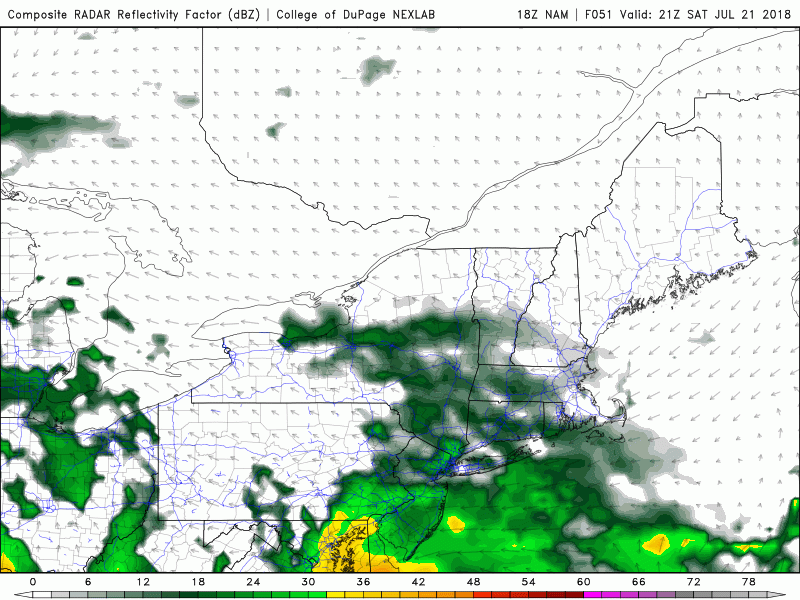 Showers will arrive overnight Saturday and last into Sunday morning. (COD Weather)
The heaviest rain will fall over western New England, where over an inch of water is possible.
This unsettled, humid pattern will last into the first week of August. If you have a vacation in the next couple of weeks, there will be beach time for sure, but you should have rainy-day activities planned as well.