The weather will be unsettled for the next few days. Here's David Epstein's forecast.
Friday will be sunny and hot, but expect a lot of clouds and the risk for showers for the rest of the weekend.
The good news is that Friday will be an excellent beach day.
The bad news? Humidity will lurk just to our south, and as it tries to creep northward, it can produce showers, thunderstorms, and torrential downpours, especially on Saturday. Some waves of low pressure may develop along this boundary, and that would only increase the rain we get the next few days.
This pattern will continue into next week. It doesn't mean it's going to be raining all the time, nor does it mean we won't see any sunshine at all. Friday, however, is definitely the nicest of the next five to seven days.
Here's your complete weekend weather forecast:
Friday will be sunny and less humid.
Friday brings wall-to-wall sunshine with temperatures in the 80s. Thankfully, we're going to get a break from some of the humidity we've been experiencing. 
If you're enjoying a three-day weekend, this is the day to spend outside or get to the beach.
Saturday brings the risk of showers.
A lot of clouds and the risk for showers are in the forecast this weekend. I think Saturday will be a cloudier and wetter day than Sunday.
It's likely that all of Massachusetts will see at least one shower Saturday; it's also fairly likely that some of us don't see any rain on Sunday. I know it can be difficult to make plans when you have this kind of forecast, but this past week is a good example: Even in a short period of time, some areas can get a lot of rain, while others stay dry.
The farther north you are this weekend, the better the weather will be. Northern New England will see more sunshine because it's farther away from the humid boundary to our south.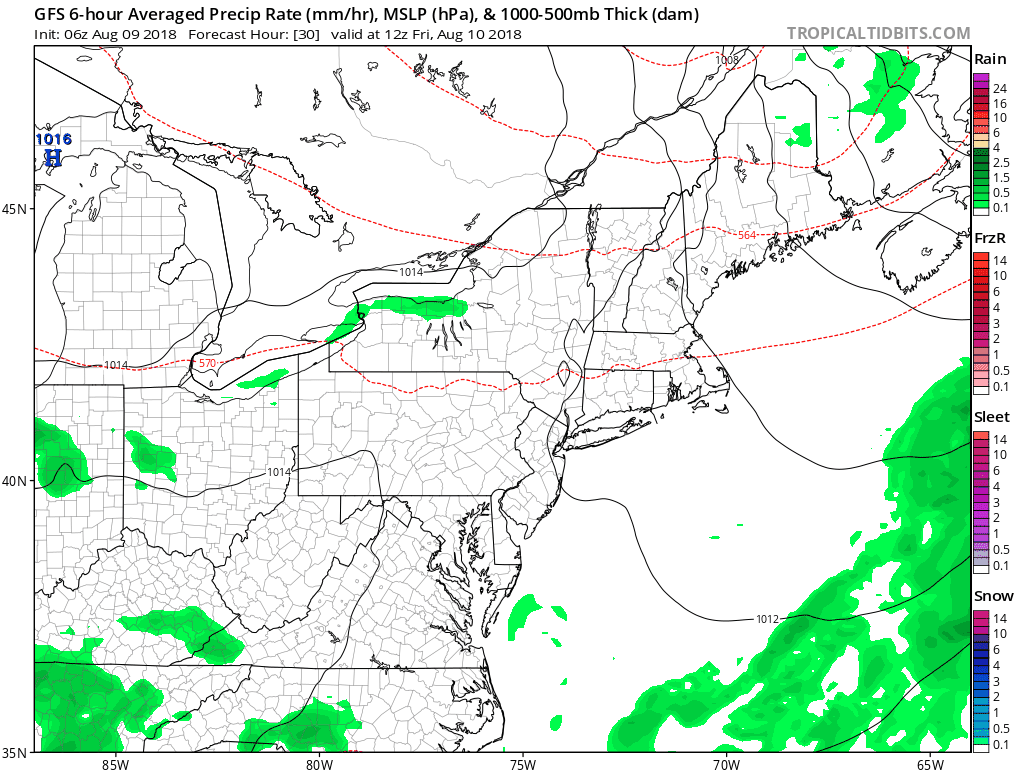 Showers will cross the region from time to time this weekend. (Tropical Tidbits)
Sunday's temps will reach the low 80s. 
Southern New England will get a bit more humid Saturday and Sunday, but I don't expect temperatures to be as warm as we've experienced recently. Temps will reach the low 80s.
This is also the first weekend when the sun will set before 8 p.m. both days as we continue to lose daylight.
It's looking like the dew point will finally lower for an extended period of time during the third week of August, so we have a little while to wait for a more comfortable feel to the air.